AUCA Student Exchange Opportunities
Institute of Economy and Trade TSUC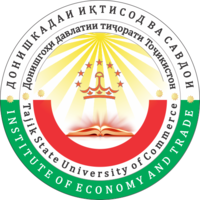 The State Educational Institution of the IET TSUC was established in accordance with the Decree under No. 59 of the Government of the Republic of Tajikistan from February 12, 2010  on the  material, technical, educational, scientific and personnel basis of Single Educational Complex under TSUC.
Admission to IET TSUC
We invite applications from students who will be in their second or third year of study in Fall 2020 (sophomore and juniors) for a semester exchange program in IET TSUC. Two students will be selected among sophomores and juniors to spend a semester there. All departments are welcome to apply.
Please, note that students are responsible for paying their tuition fee at their home university and are exempt from paying tuition fee at IET TSUC. However, a student needs to cover all the expenses related to the program: transportation, accommodation, visa and meal.
All students, willing to apply for exchange programs, must do so through abroad.auca.kg electronic system. The system will require students to login through AUCA account only. The recommendation letters are now must be filled in by AUCA professors only using a form within the electronic system. The AUCA students have to send a link to professors' AUCA emails, who will fill in a recommendation form for a student.  
If you have any questions regarding the program, please visit the International Student Office, room 237, or send your questions to international@auca.kg. 
The application will require students to upload/complete the following documents by Monday 5 pm on February 10, 2020. After the deadline, the system will be closed automatically, and students will not be able to complete application.  
Statement of purpose explaining why you want to study abroad in KIMEP, how it will benefit your studies at AUCA, and what you hope to achieve through this experience;
AUCA Transcript (non-official can be uploaded, too);
2 (two) Recommendation forms from AUCA professors;
Resume/CV;
Study plan for Fall 2020 (list of courses can be found on the university website).