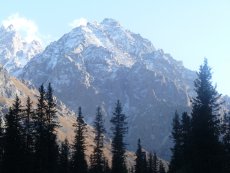 SUMMER LANGUAGE SCHOOL

Dina Lukyanova

dlukyano@bard.edu
SUMMER LANGUAGE SCHOOL
The AUCA Summer Language School will give students the opportunity to complete an entire year of language study (160 contact hours) over the course of 8 weeks. The program includes tuition, cultural program, room (dormitory or home stay), books, and access to all university resources. We will be happy to work with your home institution to accept FLAS or Title VIII scholarships.
AUCA language professors are all native speakers, and group sizes are from 8-10. Each language group will also have AUCA student peers, native speakers who will act as language and cultural mentors.
To apply, download the application, fill it out, and email it back to summer_school@mail.auca.kg. On the course line, please indicate the language you wish to take, followed by the course numer: 999, course ID: 999, and credits: 6 - graduate, 3 - undergraduate.
All students of North American universities must apply through Bard College, and will receive transcripts from Bard College. Students from outside North America receive AUCA transcripts, and can apply directly to summer@mail.auca.kg.
SUMMER LANGUAGE SCHOOL DEADLINE:

MAY 1, 2013

SLS Course Dates:

June 10 - August 2