AUCA CHESS CLUB
August 8, 2017
The AUCA Chess Club was created to get people to play chess at the University. The Club encourages people of all levels of experience to play and offers a friendly, constructive, and social platform for chess enthusiasts. The Club sends also teams to the Universiada. To find out more about the AUCA chess club, we sat down and talked with Shaislam Shabiev, a freshman in the economics department and the head of the chess club:
 I was 7 years old when I first played chess. From that moment forward, this game was more than just an ordinary game for me—it was a space for self-expression. I can be an artist in chess, thinking up tactics and creating strategic plans, which I find incredibly rewarding. So far, I have devoted most of my time to playing chess. It is certainly more than just a hobby.
The AUCA Chess Club was founded by Bekbasarov Talapker, a 2016 AUCA alumnus. We both played for Issyk-Kul's regional chess team for about 5 years, and so we knew each other well. When he started at AUCA, there was no chess club, so he set himself to organizing it, and he did it well. Last year, when I was an NGA student, we had a strong team and took 1st place in the 1st league and passed on to the Major leagues. Chess was the only sport among all others in AUCA to play there.
To be honest, many students think chess is not the most energetic and fascinating game. It certainly hard to start and remain interested in it, if you haven't gained a full understanding of this beautiful game. When we organized the club 2 years ago, there were only a few students; however, last year, we had about 20 members, we implemented a project that is teaching children with Down's syndrome to play chess, and we organized an AUCA Chess Competition. Unfortunately, we've been on a hiatus due to a lack of time and ideas, but we are going to actively start improving our club next year. Nevertheless, we have noticed an increased interest in chess, and, considering that this game is quite intellectual and very useful, we will try to increase its profile at AUCA even more.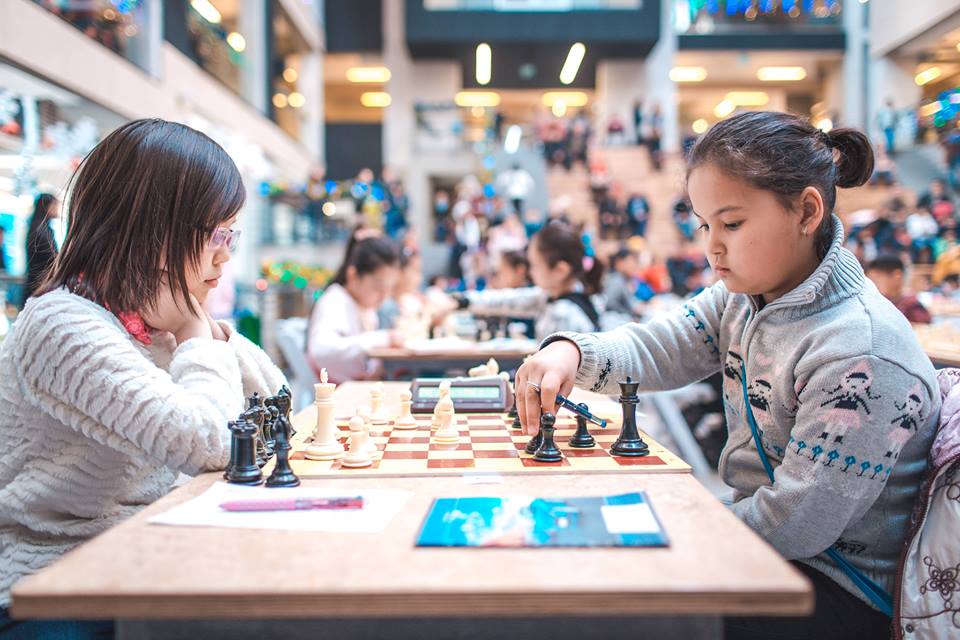 AUCA is often considered a place for clever students, and, with chess being the only sport at AUCA playing in the Major leagues, we want to build a strong team and promote AUCA as the best university in every aspect. This year was the first year we participated in the Major leagues, and we held our own against the best universities in Kyrgyzstan. Our team (Shabiev Shaislam (captain), Nursultan Mamatov, Nursultan Shakitov and Zamir Mamytov) took 5th place, and now we are optimistically waiting for the next year.
Next year, we plan to continue our work with children and organize interesting events related to promoting chess at AUCA.