Tragic loss of AUCA graduate Fatima Khalil
June 27, 2020
It's terrible to hear about the loss of our graduate Fatima Khalil, who became a victim of the terrorist attack today in Kabul, Afghanistan.
Fatima was kind and intelligent young lady, excellent student, and beloved daughter and friend.
We express the deepest condolences to Fatima's family and friends. She will always be in our hearts and minds.
Fatima graduated from the AUCA's Human Rights program in 2019 at the age of 23. She worked for the Afghanistan Independent Human Rights Commission (AIHRC) as a donor coordinator.
Please scroll down for Dari and Pashto translations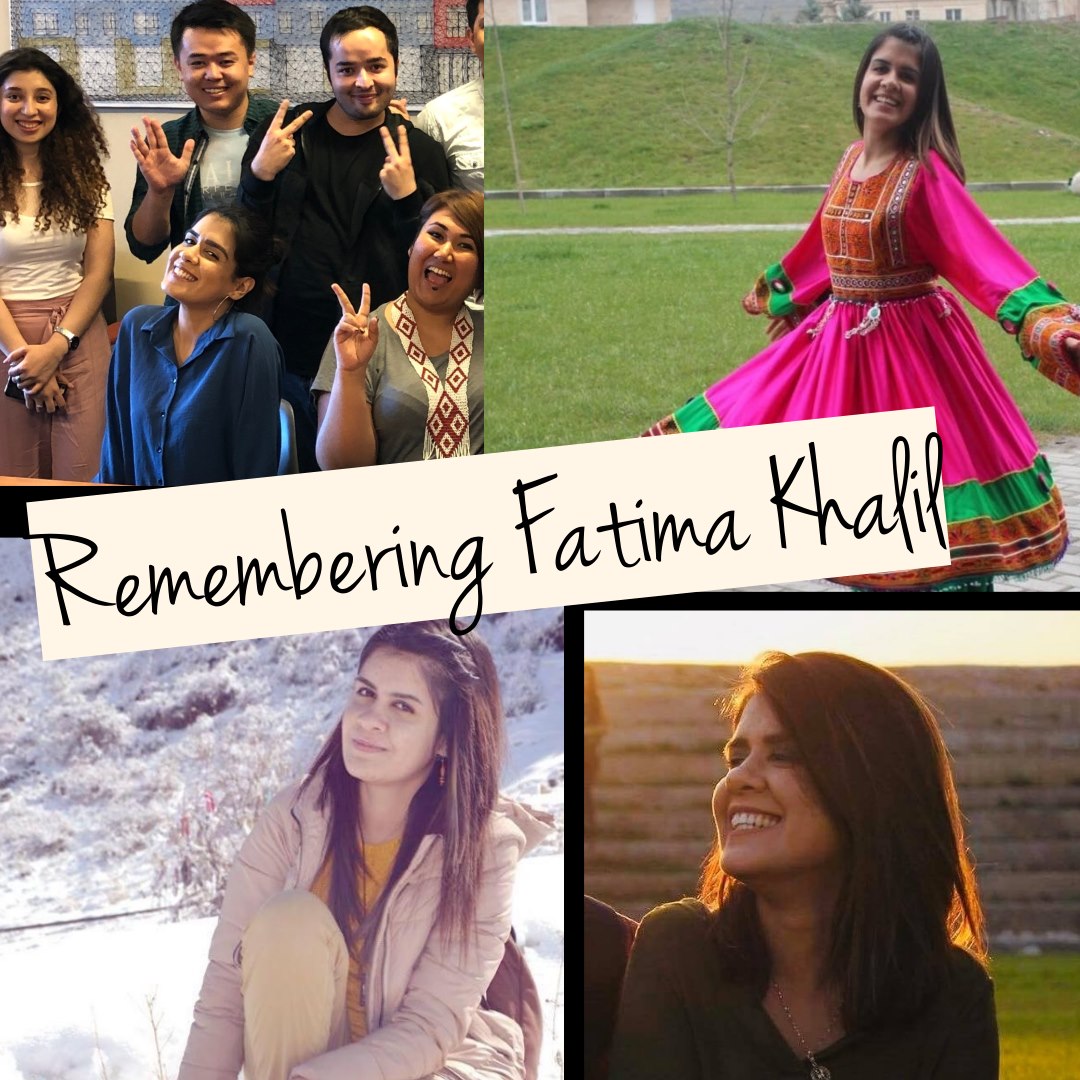 ***
په دیره خواشینئ سره مو خبر واخیست چی،زمونژ له پوهنتون سخه فارغه شوی آغلئ فاطمه خلیل د یو ایشودل شوی ماین د چاودیدلو له امله چی د هغئ په موتر کی زای په زای شوی وو ،د افعانستان د کابل په شار کی قربانی شوه.
فاطمه دیره خواخوژئ او هوشیاره نجلئ، موفقه محصله، دخپلئ کورنئ گرانه لور او زره سواندئ ملگرئ وه.
مونژ د زره له کومی خپل عمیقه خواشینی او تاءثرات د فاطمئ کورنئ او دوستانو ته سرگنده وو. د هغئ یاد به تل زمونژ په زرونو او ذهن کئ ژوندی وی.
فاطمئ په 2019 ام کال کی د AUCA د پوهنتون د بشری حقوقو په سانگه کی خپله زده کره د 23 کالو په عمر پای ته ورسوله.
فاطمئ په کابل کی د افغانستان د بشری حقوقو خپلواک کمیسیون (AIHRC) کی د دغه کمیسیون د ارتباطاتو دفتر د آمرئ په حیث کار کاوه.
***
با درد و تاءسف فراوان اطلاع یافتیم که محترمه فاطمه خلیل فارغ التحصیل پوهنتون ما در اثر انفجار یک ماین جا سازی شده در موتر حامل وی درشهر کابل افغانستان قربانی شد.
فاطمه دختر مهربان وهوشیار، محصل موفق و پیشتاز، فرزند دوستداشتنی والدین و رفیق دلسوز و مهربان برای دوستانش بود.
ما تاءثرات عمیق خودرا به فامیل و دوستان فاطمه ابراز میداریم.
خاطرات او برای همیش در قلب وذهن ما ماندگار خواهد بود.
فاطمه تحصیلات خودرا در رشته ای حقوق بشر پوهنتون AUCA در سال 2019 به عمر 23 سالگی به پایان رساند.
او در کمیسیون مستقل حقوق بشر افغانستان (AIHRC) به حیث آمر دفتر ارتباطات این کمیسیون کار میکرد.