AUCA Media Fellowship Program 2022
March 30, 2022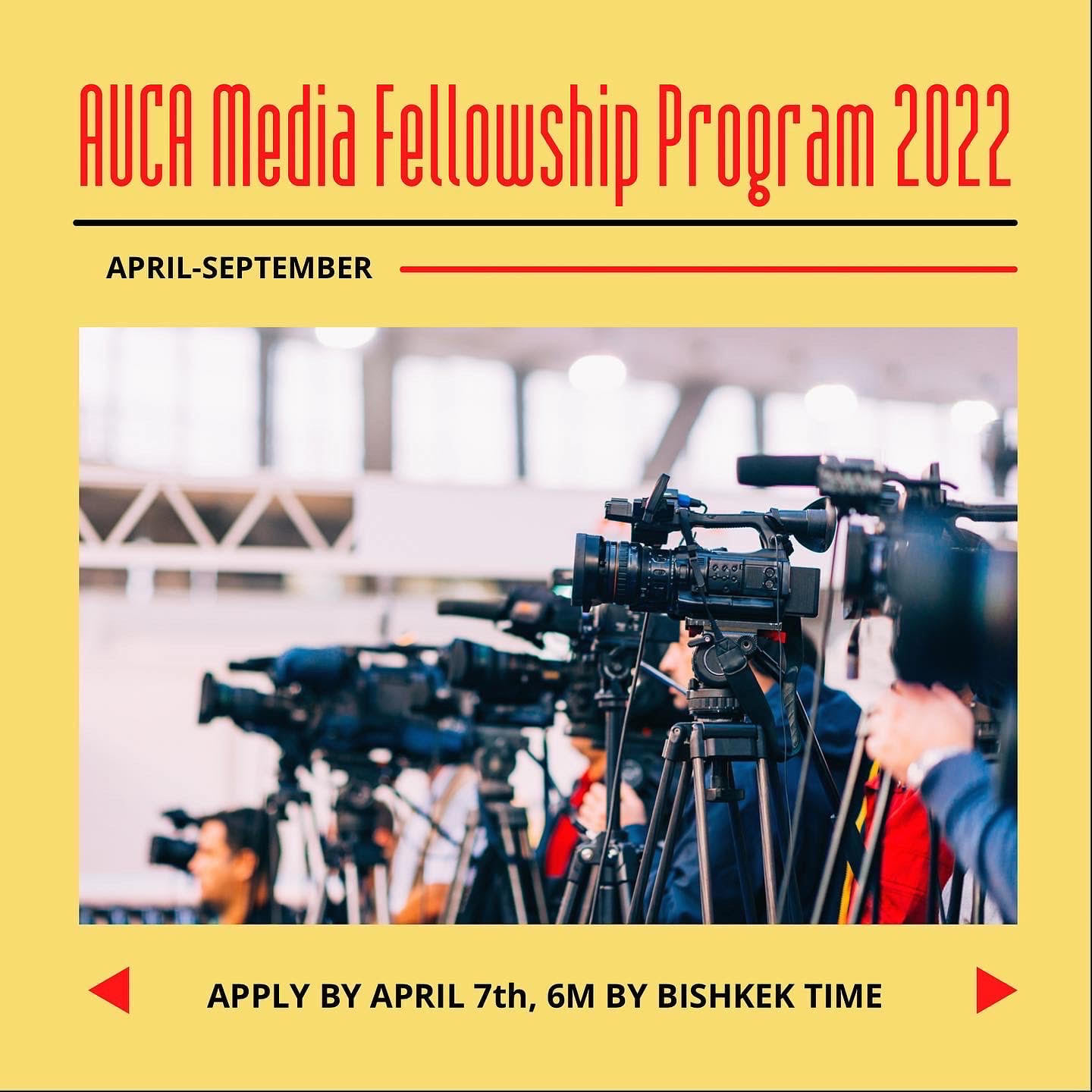 We invite students and early-career professionals from different specializations and civic activists from Afghanistan to apply for AUCA Media Fellowship Program 2022, which will take place in Bishkek, Kyrgyzstan, from April to September 2022.
If you are a student, alumni, or early-career professional from Afghanistan based in Bishkek willing to become a part of the strong society that will build more stable, prosperous, and democratic societies, this program is for you! In addition, you will receive psychological support and gain the skills necessary to become a highly-demanded media professional.
During the program, you will:
Learn new skills in storytelling, photography, fact-checking, podcasts, etc. from the greatest international experts;

Participate in the extracurricular activities in Bishkek, Issyk-Kul, and fascinating mountainous areas;

Develop networking with Afghan and foreign journalists and editors all over the world;

Participate in discussions, web sessions, and events dedicated to the future of Afghanistan;

Receive psychological counseling and learn how to deal with burnout and mental breaks; 

Work on your projects with the opportunity to be published in the media and win fellowship mini-grants for projects. 
The program will be held from April till the end of August 2022, with most of the activities implemented during the summer. All sessions and activities will be held during working hours, except for trips across Kyrgyzstan. 
Who can apply 
Fellowship is open for every Afghan student and professional based in Bishkek, but the preference will be given to individuals who are working on (or willing to work on) content production: artists, activists, media professionals, bloggers, film-makers, and journalists: 
Students and graduates with academic or professional background in journalism, blogging, filming, communications, media, politics, activism, art, and related specializations;

Early-career professionals in journalism, communications, media; activism, and art. 

Participants should be able to devote 4-8 hours per week to the fellowship activities. 
How to apply 
Please send the following documents to jour@auca.kg: 
CV (including contact information);

University transcripts (or diploma if a candidate is graduated);

Motivational letter (no more than 1000 words). 
Deadline: please send all documents to 

jour@auca.kg

 by April 7th, 2022, at 6:00 pm by Bishkek time. 

For questions and email inquiries, please contact jour@auca.kg.

After graduation from the fellowship, students will receive a certificate from AUCA. 

What is AUCA Media Fellowship Program about? 
The goal of AUCA Media Fellowship Program 2022 is to strengthen the civil society of Afghans in Kyrgyzstan through joint professional growth and skills development, building up communication within the Afghan community, and uniting people through cooperative activities and peer-to-peer sessions. The fellowship will help the next generation of civil society leaders, students, and activists from Afghanistan to build more inclusive, stable, prosperous, and democratic societies by promoting learning, youth engagement, and free media principles. To master their skills, fellows will have an opportunity to work on their projects with the potential to be published in the media. Fellows will have the opportunity to receive mini-grants for projects.
The AUCA Media Fellowship Program 2022 is funded by the Open Society Foundation and implemented by the Journalism and Mass Communication Department,  American University of Central Asia.