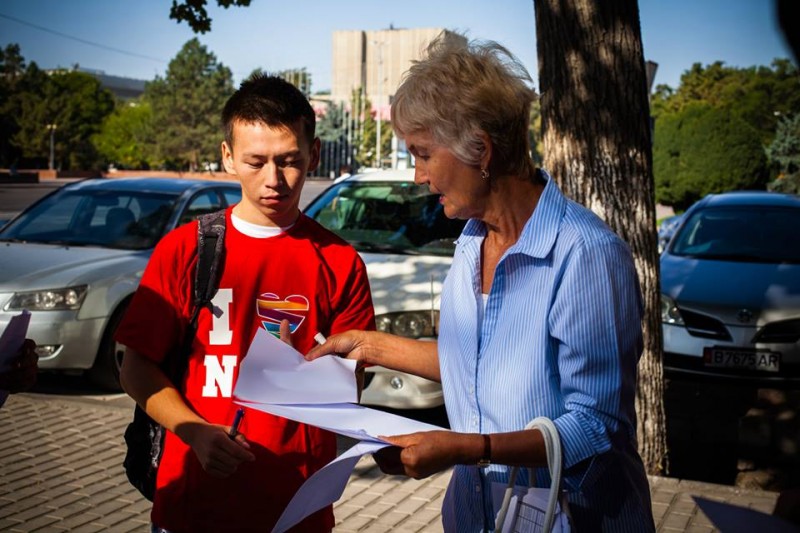 DEAR NGA APPLICANTS,
If you are looking for a dynamic and diverse learning environment to get ready to apply to the university of your choice, New Generation Academy is the right place to make your academic dreams come true. We offer a modern approach to education individualized to students' needs, strengths, and interests to get ready for the Admissions Exam of AUCA, as well as other universities. In NGA  you get a chance to collaborate with prominent professors and working professionals in an outstanding learning atmosphere.
If you want to apply for the NGA program, you have to complete the following steps:
APPLY TO NEW GENERATION ACADEMY
All applicants from Kyrgyzstan as well as from other countries have to follow the admission steps to be able to study in NGA:
STEP I: NGA Application Form should be submitted by July 20, 2021
Your completed application package should include the following documents:
Completed and signed NGA Application Form. Please d

ownload the application form here --> 

NGA Application form for the 2021-2022 AY

             

A copy of your passport. All international students should submit their scan copies of their international passport 

A copy of high school diploma

2 photos - 3x4 cm (white background)

Copies of certificates and diplomas

Medical form with required (ONLY) medical check-ups. The medical form will be given either by the NGA office once you are recommended to study in NGA
STEP II: All applicants are required to participate in the admission interview. The interview will be scheduled by NGA after reviewing the application package.
STEP III: All applicants should take the English Language Proficiency Test (ELPT) in NGA or AUCA. The NGA English test is designed for its applicants and consists of Reading Comprehension and Structure (Grammar) parts coupled with the Essay. Part one and two should be completed within 50 minutes, whereas the third -Essay part - should be written within 20 minutes. The maximum number of questions 50. Each correct answer gives you two points. The total point equals 100%. 
Additionally, the NGA Selection Committee admits students with their official TOEFL or IELTS scores. All official certificates should be submitted with other documents. 
STUDENT VISA APPLICATION
All international students should start their visa application to the Kyrgyz Republic no later than 30 days prior to their arrival.  AUCA provides a letter of support to all students who require it. Visa procedures differ greatly depending on your country of citizenship. For visa support, you address your questions to kalyuzhina_l@auca.kg (Larisa Kalyuzhina)
SPECIAL NOTES: 
Admission to the NGA Program is not a guarantee of future admission to the American University of Central Asia's undergraduate degree programs. Students must successfully pass AUCA Entrance Exams in order to be admitted to AUCA undergraduate degree programs.

Applicants to AUCA's undergraduate programs who are not admitted due to low admission scores may also be considered for admission to the NGA Program. Such students must request the Office of Admissions to reconsider their application for admission to the NGA Program.
NGA TUITION PAYMENT AND FINANCIAL AID: 
TUITION payment for the 2021-2022 academic year will be 3300 USD. Your tuition must be paid in KGS (Kyrgyz som). 

NGA applicants can apply for FINANCIAL AID by July 17, 2021. You need to fill out an application for financial aid (also available from the Scholarships and Financial Aid Office or by e-mail: finaid@auca.kg). When submitting the financial aid application to the Office of Scholarships and Financial Aid, students must also submit all necessary verification documents (i.e. attestations or tax records as listed in the Financial Aid Policy ).  It is recommended that the verification documents be submitted at the same time as the application for financial aid. In the case of e-mail submission of an application hard copies of the application and supporting documents must be sent to the NGA Office of Admissions within 10 working days.

If you would like to learn more about Financial Aid, please do not hesitate to contact:

AUCA Scholarships and Financial Aid Office
7/6 Aaly Tokombaev Street
Bishkek, Kyrgyz Republic 720040
Telephone: (996 312) 91-50-00 (Ext.: 412)
E-mail: finaid@auca.kg

Financial Aid Application Form can be downloaded from https://auca.kg/en/financial_aid/ 
FOR SUBMISSION OF NGA APPLICATION DOCUMENTS
AND FOR MORE INFORMATION, CONTACT US VIA:
New Generation Academy, room 420, AUCA
7/6 Aaly Tokombaev Street, Bishkek, Kyrgyz Republic 720040
Tel: (+996) 312 915 000 Ext.: +486/485
Cell phone: (+996) 220 11 82 43
E-mail: nga@auca.kg