Zeenab Saleh Kassam Scholarship
January 18, 2018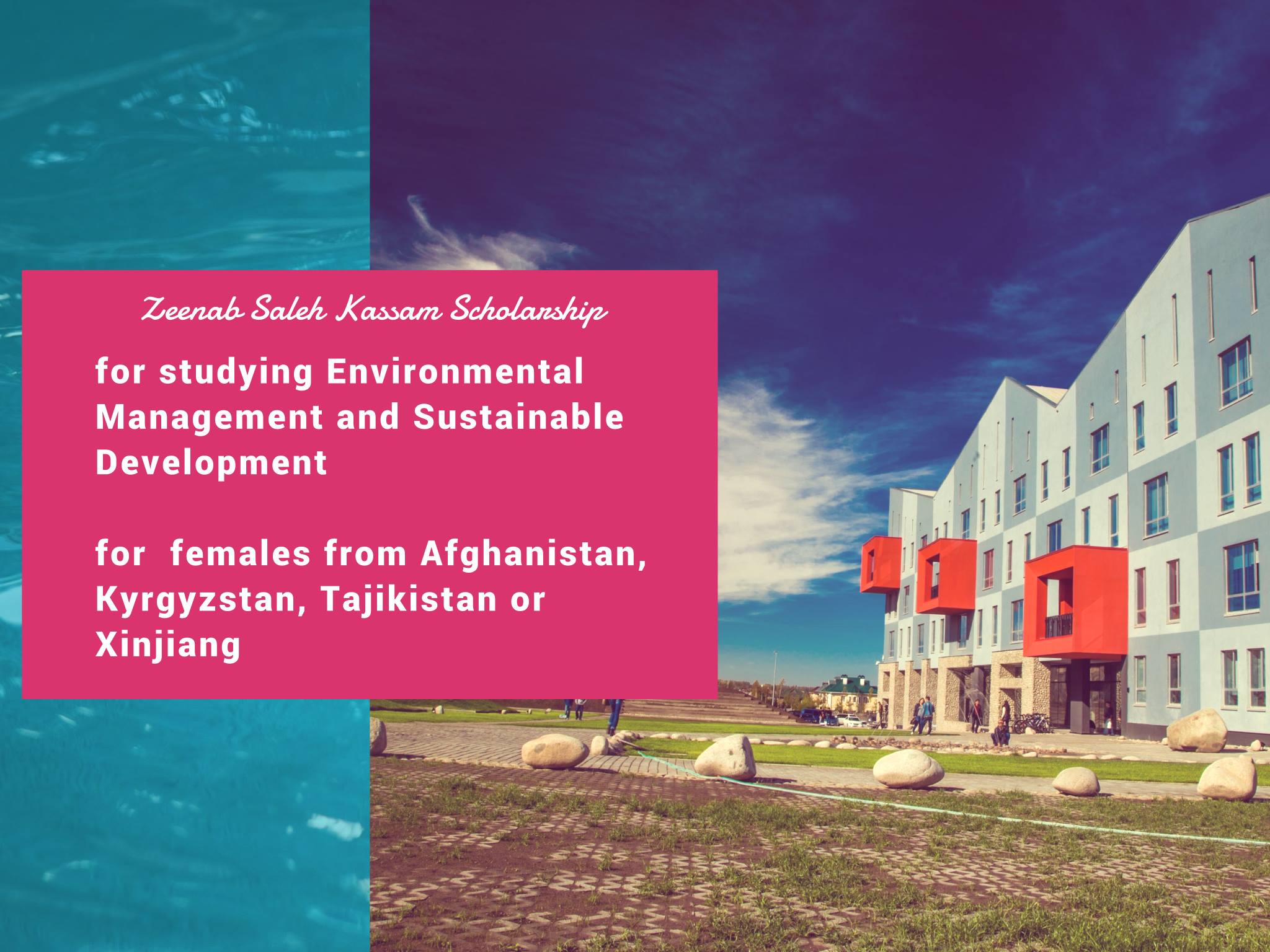 American University of Central Asia (AUCA) is pleased to announce the establishment of the Zeenab Saleh Kassam Scholarship for a student interested in pursuing an undergraduate degree in Environmental Sustainability and Climate Science (ESCS) (https://www.auca.kg/_/sustainable_development/) at AUCA from September 2018.
The Zeenab Saleh Kassam Scholarship is designed to provide the best and brightest female students resident in Afghanistan, Kyrgyzstan, Tajikistan or Xinjiang (China) an opportunity to study. Other parts of Central Asia will be considered as well. Should such a female student not be admitted to AUCA, the family will consider a male student from the region.
The family of Zeenab Saleh Kassam offer a scholarship of $4000 per year for a student at AUCA, for four years, in her memory. Additional support of $1000 for appropriate clothing, learning and research supplies, and books will be provided to the student in the first year.  Total financial support for the student over the four years will be $17,000.
Who was Zeenab Saleh Kassam?
Zeenab was a nurse volunteering in Kabul, Afghanistan teaching English to Afghan medical professionals. On March 20th, 2014, three days before her 18-month volunteer commitment was concluded, she, along with eight other individuals (including children), was murdered by terrorists. By teaching both young women and men, Zeenab furthered their professional development. Learning a new language is not only about acquiring skills for better livelihood opportunities, it furthers human interaction and understanding. Zeenab was facilitating diverse individuals to be able to talk to each other and understand one another. This scholarship is a continued commitment by her family to the education of young people so that they can better themselves and effectively contribute to Central Asia. Having suffered the pain of this violence, the Saleh Kassam family firmly believes that peace can only be achieved through knowledge and understanding.
Why is this scholarship for Environmental Sustainability and Climate Science Major?
Mountainous regions of Central Asia are characterized by biological and cultural diversity with a wealth of renewable and non-renewable resources. This strength is also met by challenges such as environmental degradation, food insecurity, dramatic climatic variation, poverty, sustainable agriculture, renewable energy systems, and seismic activity. Wise stewardship of the ecology of the region is the primary concern for the twenty-first. 
Moreover, should the scholarship recipient wish, advice, intellectual assistance, and moral support will be provided by Professor Karim-Aly Kassam and his international network of colleagues. This may include developing internship and applied research opportunities in addition to meeting the students own learning objectives in the field of Environmental Sustainability and Climate Science. This may also involve planning for graduate studies.
Selection process:
After using a merit-based criterion, students who have been admitted, have a demonstrated financial need, and have met the criteria outlined above, AUCA will provide the family a list of three to four candidates and their background in May 2018 to enable selection of scholarship recipient, and in June 2018 if such candidate not to be selected within the first cohort, the second cohort applicants will be considered. 
The religious orientation and ethnic background of the student will have no consideration in the provision of the scholarship.
Application submission:
In addition to AUCA's admission checklist (https://www.auca.kg/en/apply_international/), an applicant must submit financial aid application to the Office of  Scholarships and Financial Aid (https://www.auca.kg/en/financial_aid/) by making a reference to Zeenab Saleh Kassam Scholarship in their applications. The deadline for submission of the admission and financial aid application is April 20th, 2018 (first cohort) and June 22nd, 2018 (second cohort).  
Please do not hesitate to contact us if you have further inquiries:
AUCA Scholarships and Financial Aid Office
7/6 A.Tokombaev str., AUCA New Campus, room G20
Bishkek, Kyrgyz Republic 720060
Telephone: (996 312) 91-50-00(ext. 412/413)
Email: finaid@auca.kg
Admissions Exam Deadlines:
1st Cohort:
Exam registration deadline 20.02.2018
Admissions exam 25.02.2018
Exam registration deadline 27.03.2018
Admissions exam 01.04.2018
Application deadline 20.04.2018
2nd Cohort:
Exam registration deadline 15.05.2018
Admissions exam 20.05.2018
Exam registration deadline 05.06.2018
Admissions exam 10.06.2018
Application deadline 22.06.2018