Business as Usual at the WARC under Quarantine
May 6, 2020
Despite quarantine conditions, the tutors and management team of the Writing and Academic Resource Center (WARC) have been able to rise to the occasion and maintain business as usual.
The WARC had been offering evening sessions online since 2017, so the technology and the practices for online tutoring were already in place. In the lead-up to the university's reopening after spring break, those tutors who had previous experience in leading tutoring sessions online offered advice to their colleagues. The entire tutor corps diligently trained in how to transfer their lessons to a digital format, allowing for a smooth transition once classes resumed. Because the WARC's own conversion to fully-online format did not take long, many tutors also volunteered to train other members of the AUCA community in digital learning technologies.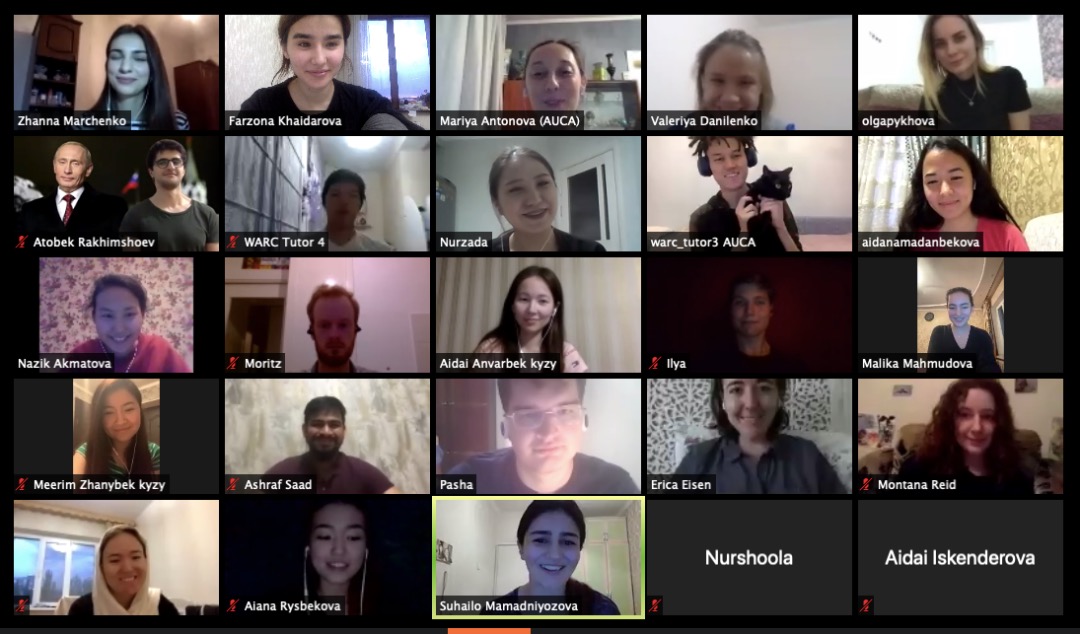 Ilya Solomonov, who tutors math, recognizes that the change from in-person tutoring can present difficulties.
"From the tutor's point of view, in order to understand whether a tutee gets you, it is crucial to see his or her face. Here I completely agree with Cicero's saying 'imago animi vultus est'––eye contact is key in tutoring."
Nevertheless, session sign-ups remain high, and tutors have been sharing amongst themselves tips for how to supplement for things like the fact that they no longer have whiteboards on which to draw graphs.
In addition to its tutoring services, the WARC has been able to maintain its other educational projects as well. Biweekly meetings of the Creative Writing Club have continued via Webex, and new episodes of the WARC's free Kyrgyz language tutorial series have been recorded and are scheduled to go online soon. The WARC's mentoring program for new tutors, as well as the practicum component of Dr. Nicholas Walmsley's "Writing to Teach You: Theory and Practice of Composition Pedagogy", which has the students honing their newly acquired skills in the WARC, have likewise found a way to continue despite the interruption caused by the pandemic.
The WARC was even able to keep up its tradition of an annual spring team building event for tutors. Under normal circumstances, such events might take the form of a hiking expedition or group activities in a park; this year, tutors took to Zoom for a virtual pizza party and game night. As well as an opportunity to bond as a group, the event was a celebration of a semester of hard work and dedication to adapting to even the strangest of circumstances.