COMPENDIUM OF RECOMMENDATIONS OF THE UN HUMAN RIGHTS MECHANISMS TO KYRGYZSTAN 2010 - 2015
Between 2010 and 2015, the Kyrgyz Republic has had its human rights record reviewed by the seven United Nations Treaty Bodies to which it is party, and the Sub-Committee on Prevention of Torture. Additionally, within the framework of the UN Charter-based bodies, the Human Rights Council held the first and second cycles of the Universal Periodic Review of Kyrgyzstan and four Special Rapporteurs visited the country in the period under analysis.
The Tian Shan Policy Center (TSPC) with the support of the Regional Office for Central Asia of the United Nations High Commissioner for Human Rights (OHCHR ROCA) carried out a comprehensive analysis of the outcomes of UN Human Rights mechanisms reviews and produced this "Compendium of recommendations of the UN Human Rights mechanisms to the Kyrgyz Republic 2010 – 2015" (the Compendium).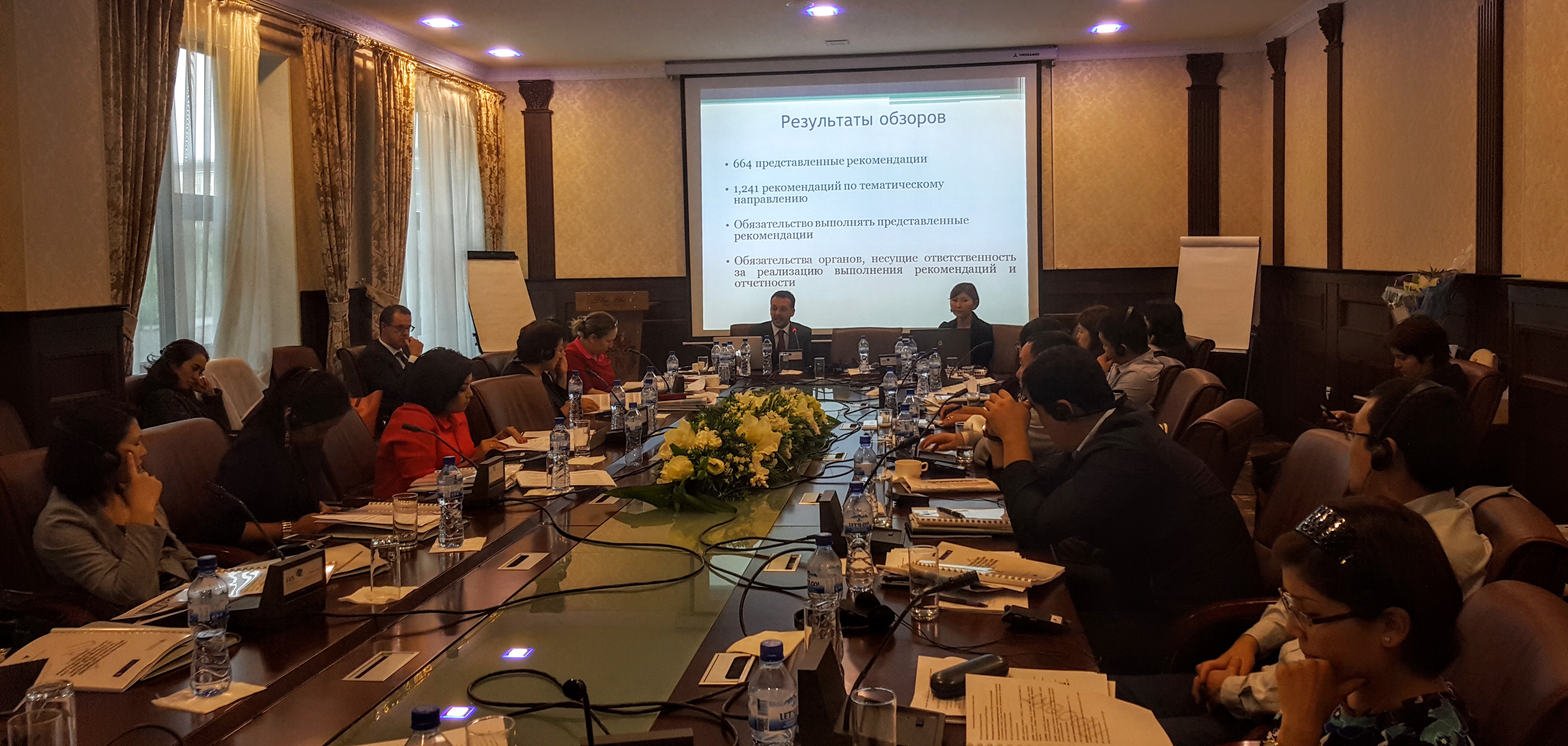 The presentation of the Compendium to national authorities and civil society organizations
The Compendium, which was officially presented to State authorities and civil society organizations on 03 September 2015, aims at consolidating the numerous recommendations made by all UN human rights mechanisms to facilitate access to information, to strengthen the human rights analysis, to promote dialogue, and to support the implementation of the recommendations through policy making, the identification of specific areas for urgent interventions, the coordination between State and non-State actors, and an efficient use of financial and human resources to advance the overall human rights situation in Kyrgyzstan.
Therefore, this Compendium is primarily designed for representatives of State authorities, civil society organizations, including human rights defenders and non-governmental organizations (NGOs). Furthermore, this Compendium is designed to support UN Agencies, Funds, and Programs, international organizations, Embassies, and other donors to streamline human rights and ensuring the incorporation of a rights-based approach into all future projects and activities to support sustainability of the results and long-term positive changes.
To achieve these goals, the Compendium is composed of two documents:
A narrative report that analyses all the recommendations clustered in 25 rights-based thematic areas. For each area, the report also indicates relevant national legislation and policies as well as Kyrgyz institutions responsible for their implementation. Furthermore, it includes tables with all recommendations by UN human rights mechanism;
A matrix that allows researching recommendations by years of issuance, UN Human Rights mechanisms, recommendations, and thematic areas. The matrix also has tables for each of the 25 thematic areas with recommendations divided by sub-topic to support the development of actions that are implementable and goal-oriented.
For any query on the products or suggestions on how to further improve them, feel free to contact us at rumolo_d@auca.kg