STUDENTS AS AUTHORS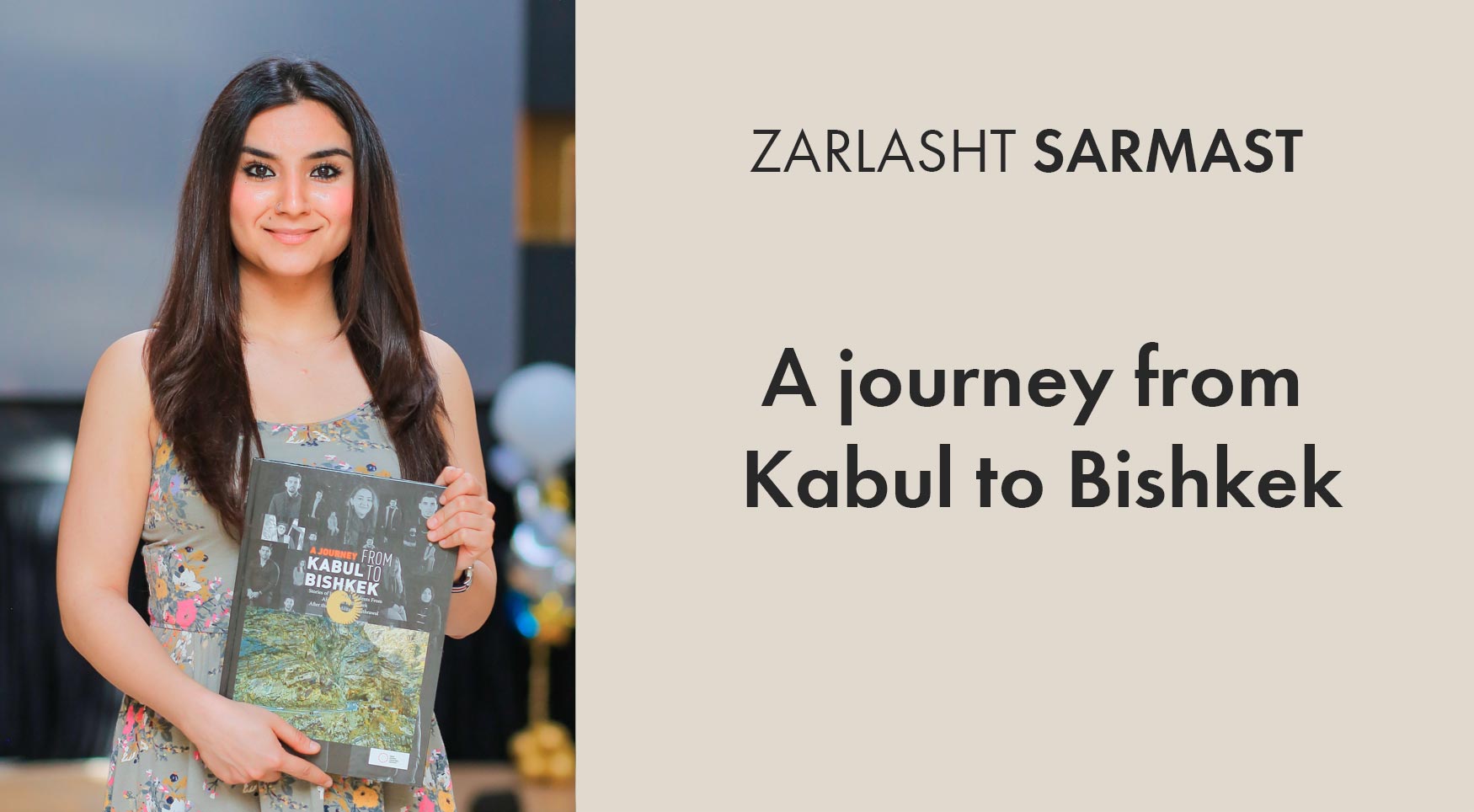 Zarlasht Sarmast is a recent graduate of the American University of Central Asia (AUCA), Department of International and Comparative Politics. She is currently doing her Masters's Degree in applied psychology at AUCA.  Zarlasht also recently finished her first MA in the department of International Relations and Security at the OSCE Academy in Bishkek (Kyrgyzstan).
She has previously served as the Spokesperson for the International Committee of the Red Cross in Kabul, and Communications specialist for GIZ in Central Asia. Zarlasht is currently working for the Open Society University Network working as a Program Coordinator for the Global Engagement Fellows program. She is the Director and CEO of the project "Afghanistan Politics on the Verge of Transformation".
Zarlasht put together the book "A journey from Kabul to Bishkek" and presented it at AUCA in March 2022 at the special event dedicated to publishing the book.
What inspired me to write the book was the experience I had during the evacuations, the stories I was hearing from the students as they were leaving their homes, families and friends behind, and the commitment of our team towards this mission. The one message I want people to take away with them from this book is: With dedication, working from your hearts, and commitment, you can make the world a better place and make a difference in someone's life.





Zarlasht Sarmast
A journey from Kabul to Bishkek is a photo storybook that highlights the horrific journey which Afghan students had to take in order to reach safety. The book also focuses on telling the stories of those who made it possible. Every story is filled with pain and bitter realization of the fact that Afghanistan will not be the same while the Taliban are on the rule, but they believe that one day they will return to Afghanistan and contribute to building its prosperous future.
I remember, even during those days, I had a feeling thinking Kabul will not fall, everything will be okay, and I can go back soon and see my family.
I would Zoom with my family every night and speak with them. That night when the Taliban arrived at the entrances of Kabul, I saw the news. I made a zoom like every day and sent it to my sister so they could get online, and we could talk, they got online, and we started our daily "Family time." We usually started that by taking a few deep breaths, and we all started talking about our days because we have been living in different countries for work and education. That night, the feeling of "everything will be fine" was gone in all of us.



Zarlasht Sarmast
Although all the stories and experiences described in the book are different, there is one thing in common in all the stories and that is the hope to return back to their home country. As one student wrote in his story: "Going back to Afghanistan and serving my country and people is not my wish, but it is my goal. When I heard of the evacuations, I promised myself that one day I will come back to my beloved country with full hands to serve her. I wish that one day I and other students can help bring peace and unity to our beautiful country." - Bais Oryakhel.
Please find the book at this link >>>