Architecture of Bishkek's Central Yards
Emil Nasritdinov, Otabek Nigmatov, Seth Fearey, David Leupold
One of the most typical and interesting morphologies of the urban fabric in Bishkek is the dvor - residential yards formed by 4-5-storey buildings enclosing the perimeters of many blocks in the neighborhoods of the city center. The following map highlights them on the background of city center urban fabric.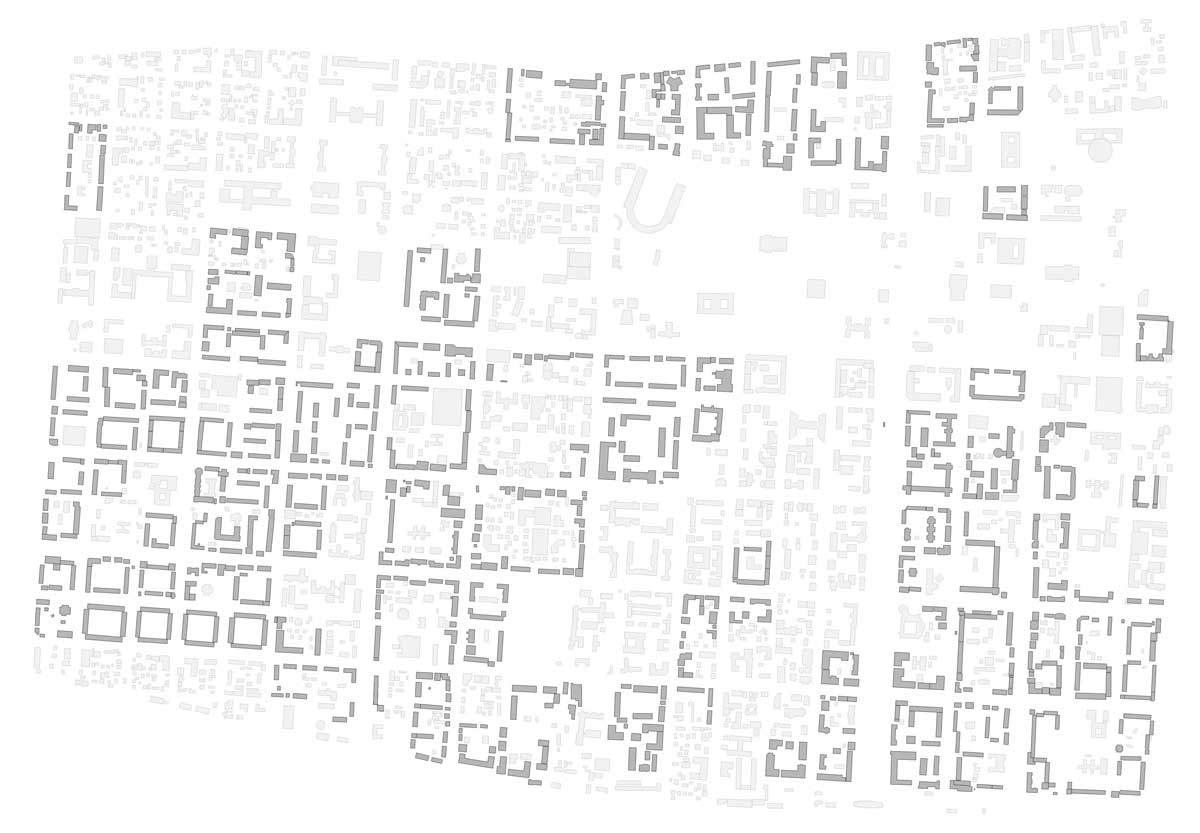 Due to the fact that the courtyards were enclosed by apartment buildings, in the 1970-1980s the dvors claimed their own unique, informal, names. Several years ago, our students conducted research and managed to recover several of these names.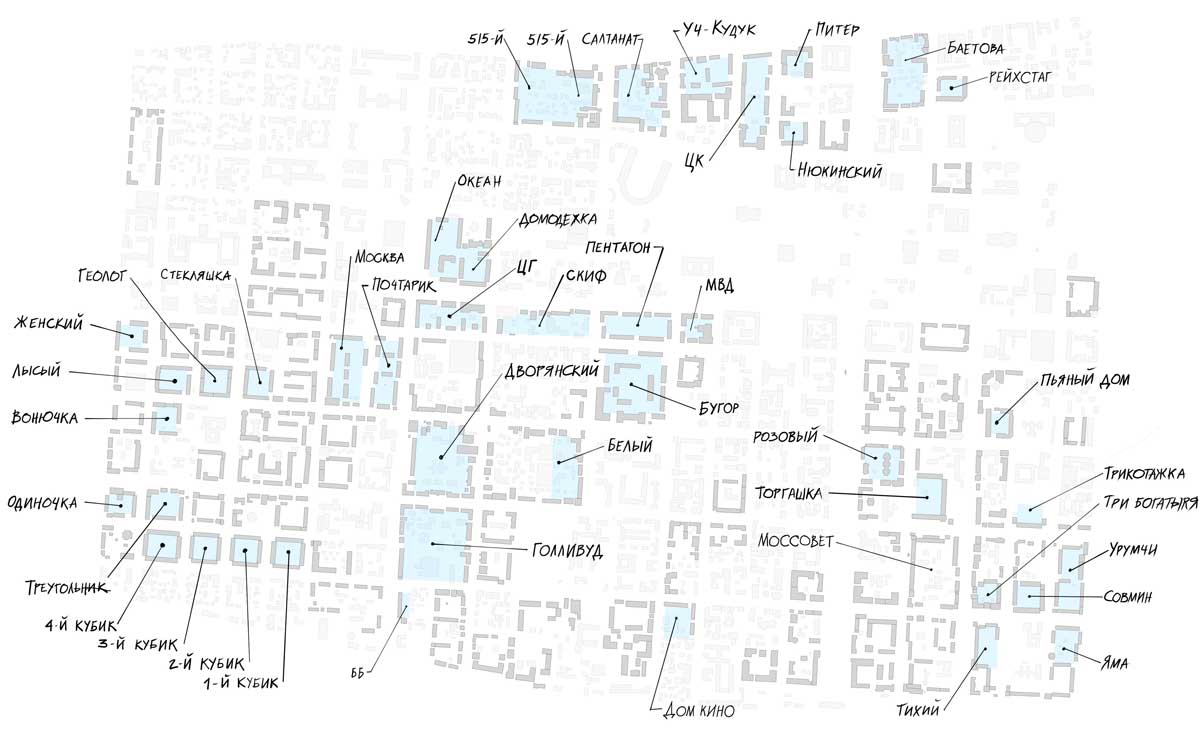 The names of dvors are also unique and often have an interesting history. In comparison to rayons, they are more likely to be associated with specific buildings. For example, Tri bogatyra (three strong men) is used to identify the yard with three point high rises of the local 106 series located on Sovetskaya/Bökönbaeva (1974-1980, Y. Pisarskoy, V. Lysenko, K. Tokochev); Piyanyi dom (drunk house) refers to the backyard of the apartment building Issyk-Kul (1979, A. Issayev) that features an experimental wave-like facade; Lysyi (bold) – yard with three houses without balconies on the facades oriented towards the yard. Several dvorswere named after the shops on the first-floor, such as Ohotnik (hunter), Sporttovary (sports goods), Tyshaga ("Tyshacha melochei" shop), Trikotazhka (textile shop), Zhenskii (women's clothing shop), Okean (fish shop "Ocean"), andTorgashka (shop "Trading house"); and several dvorswere named after other important objects: Dom kino (house of cinema), Pochtarik (post office), Domodezhka (house of clothing). There was a couple of "cities": Moskva (Moscow), Bangkok and Urumchi; few dvorswith specific spatial characteristics: Kubik (cube), Treugolnik (triangle) and Yama (pit), color: Belyi (white), Chernyi (black) and Rozovyi (pink), and even smell: Vonyuchii (stinky).
The word dvor reflects not only the layout of the courtyards, but also the architectural form. With a few exceptions, such as this Stalinist house on Erkindik Avenue, built in a classical style with columns and balustrades ...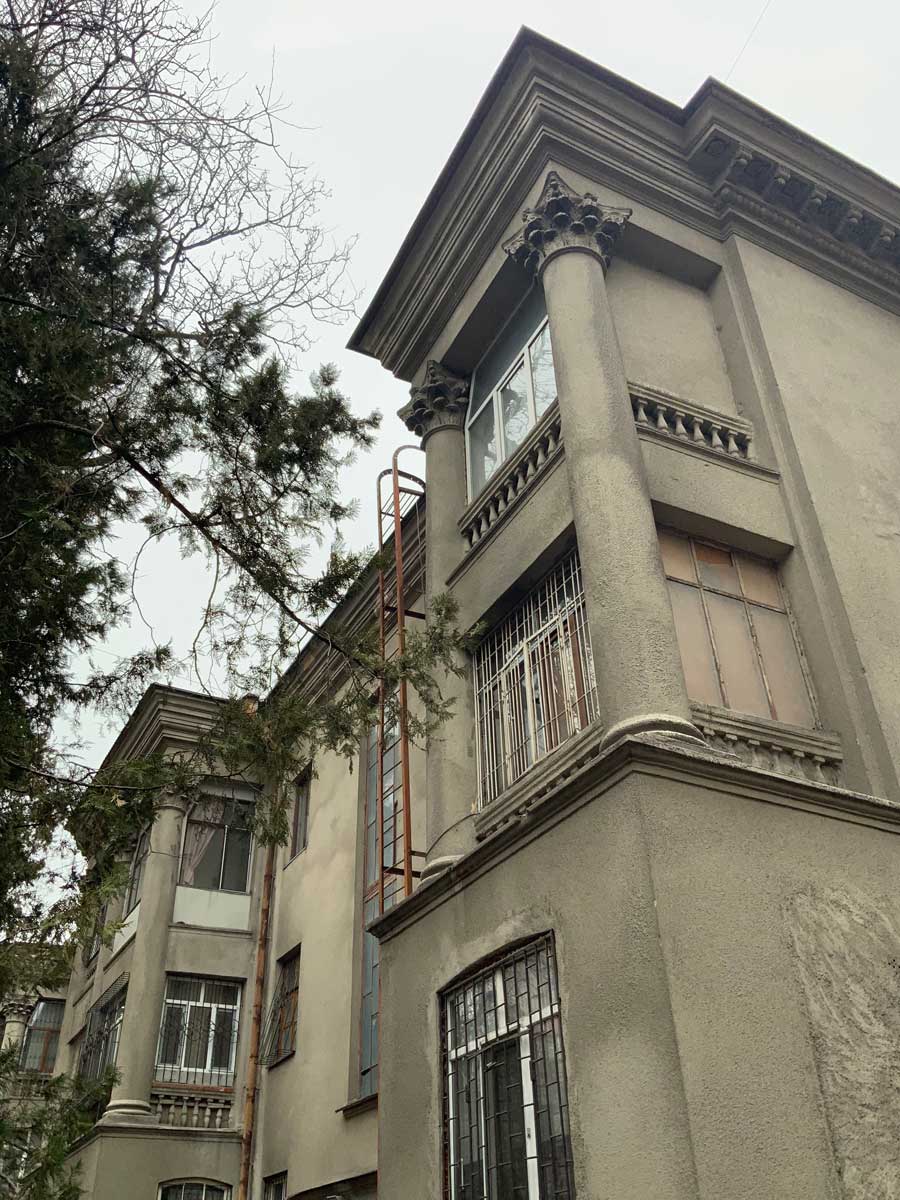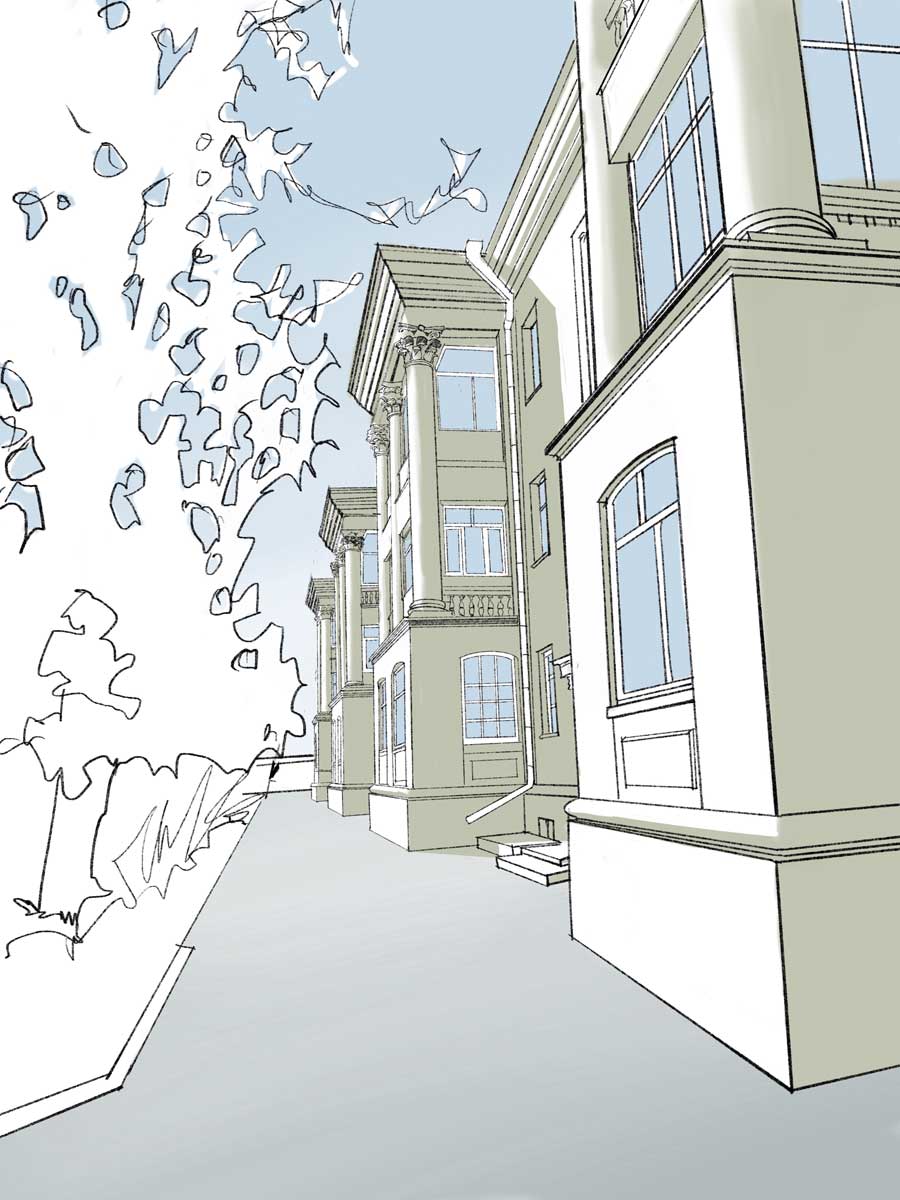 ... most apartment buildings have a very simple architecture - typical serial Soviet houses of the I-464-AS, 98 and 105 series with a repetitive layout of apartments. The architects had very little space for creativity and the only things they could be more creative with was the architecture of entrances to the building, windows in the stairwells and balconies. Accordingly, you can observe some interesting variations in the design of these three building elements.
Let's start with the entrances. In Soviet times, there was no shortage of concrete and many entrances are quite massive. Depending on the presence of the basement floor, there may be some kind of platform with a staircase, and one can also find a small utility/storage room. There were always benches placed by the entrance...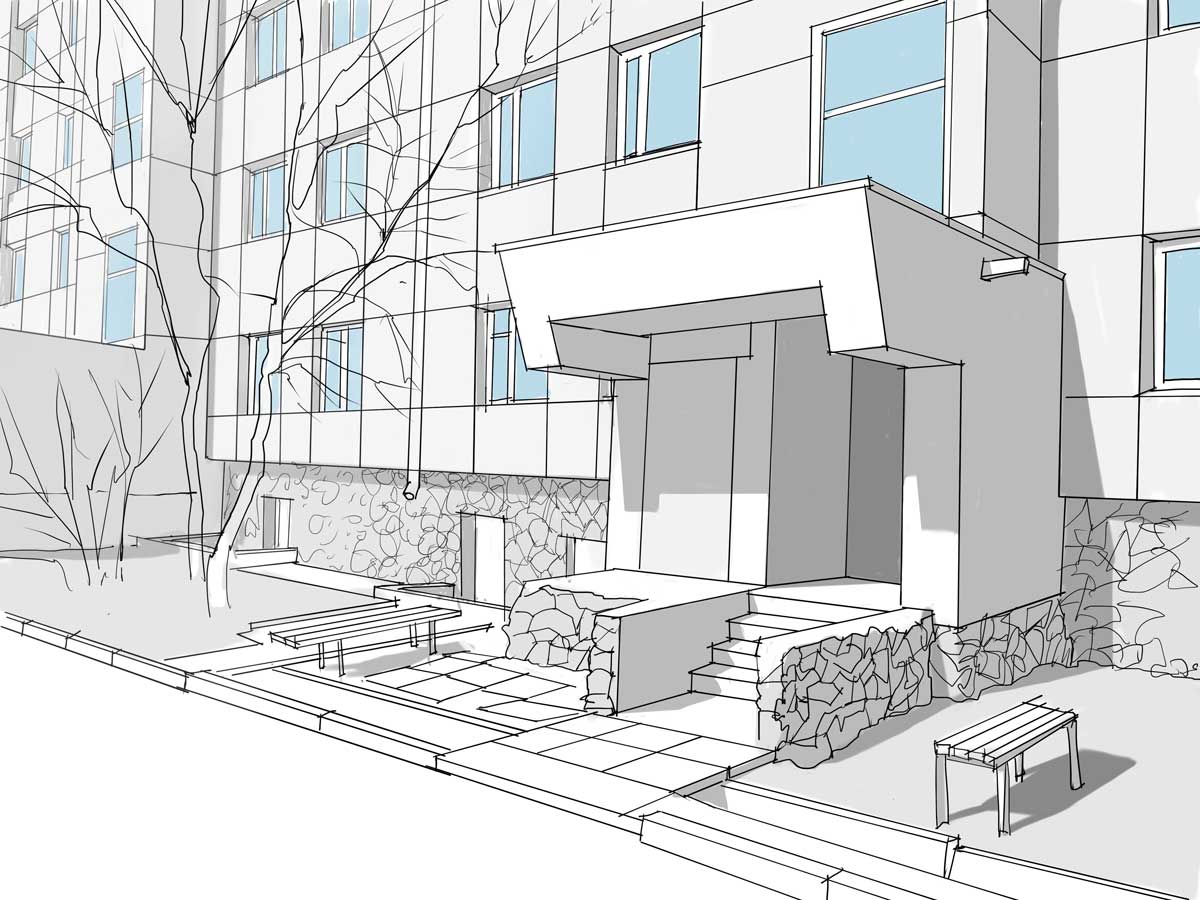 but many of them were cut off in the 90s by the residents themselves, so that outsiders would not sit and drink alcohol there.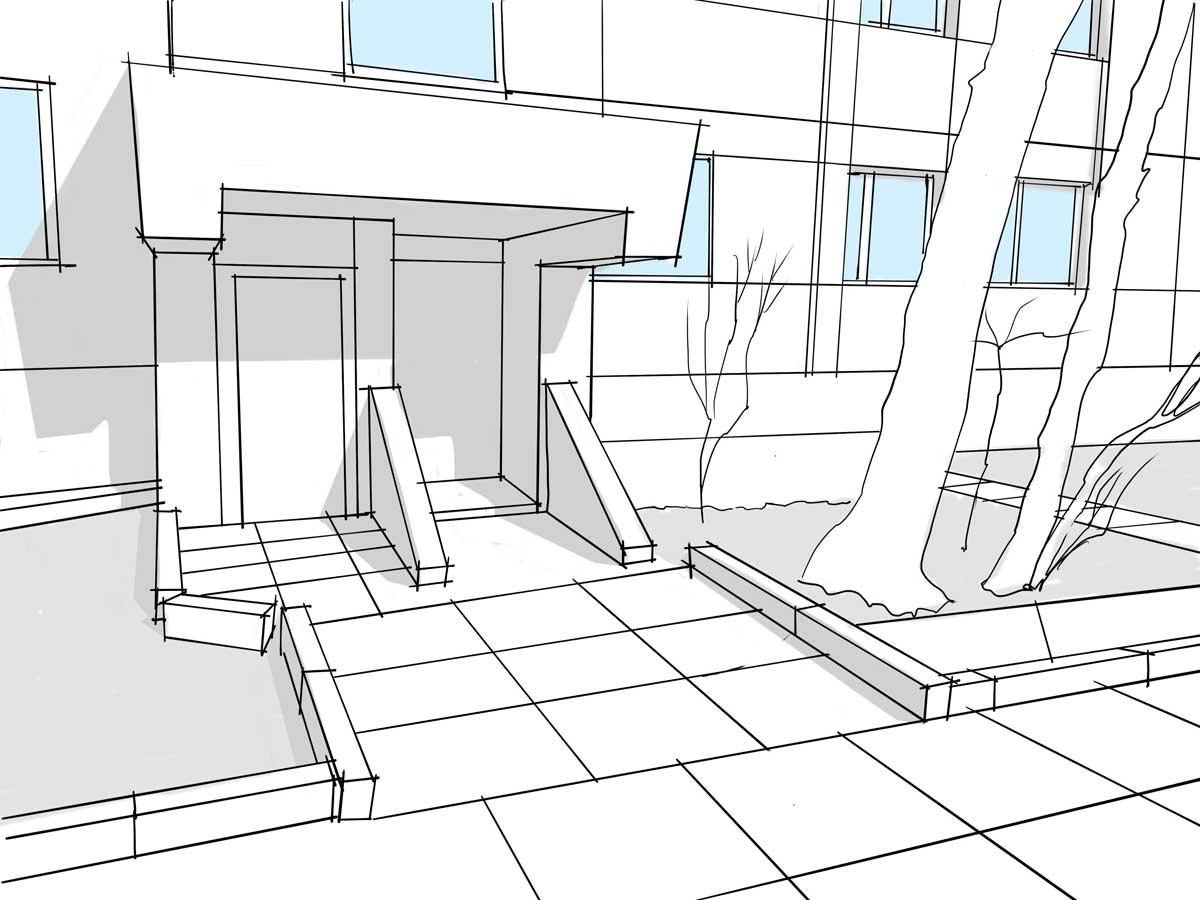 An interesting and frequently used element of the entrances were flower beds, which, by the way, also were made of concrete.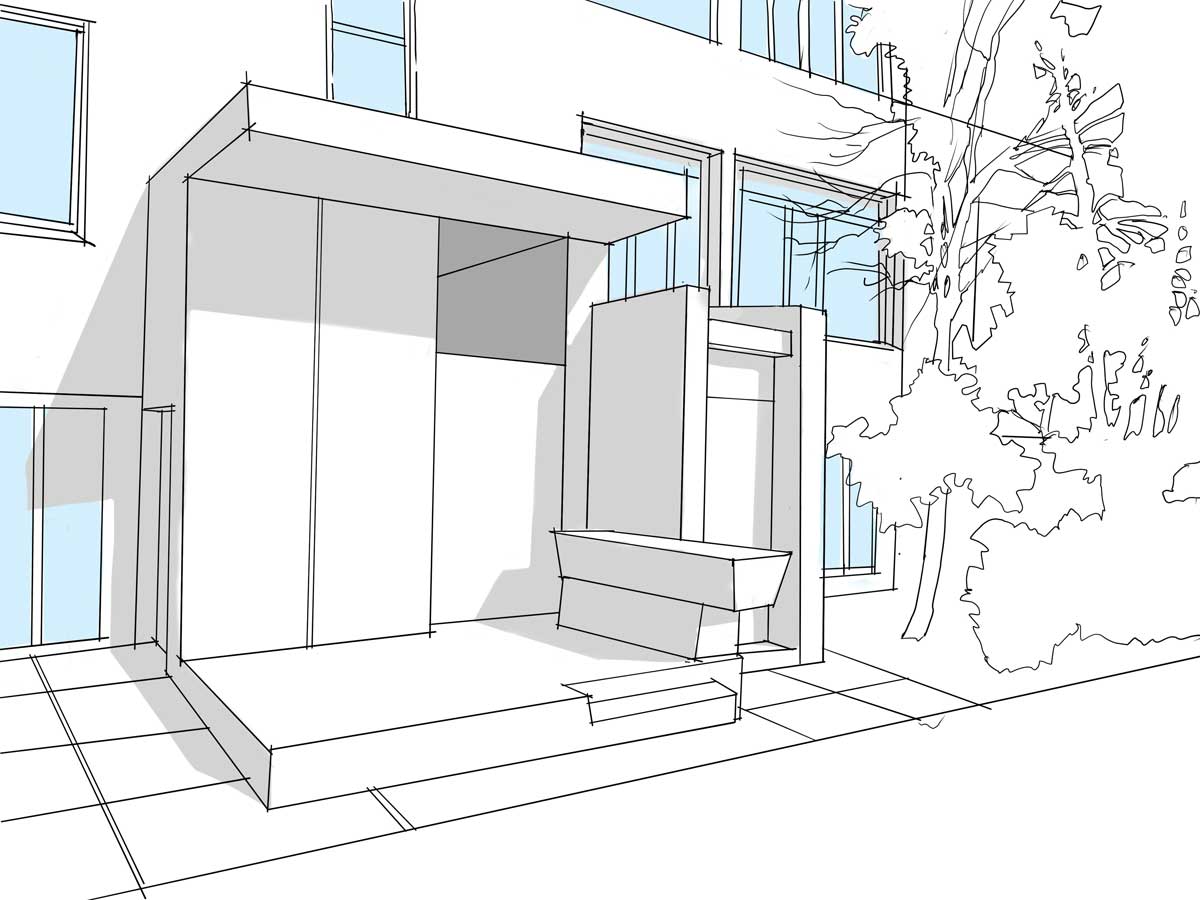 The shapes of the canopies could be quite modernist with simplicity and elegance. Combined with the perpendicular planes of the walls, they could create a very interesting play of light and shadow.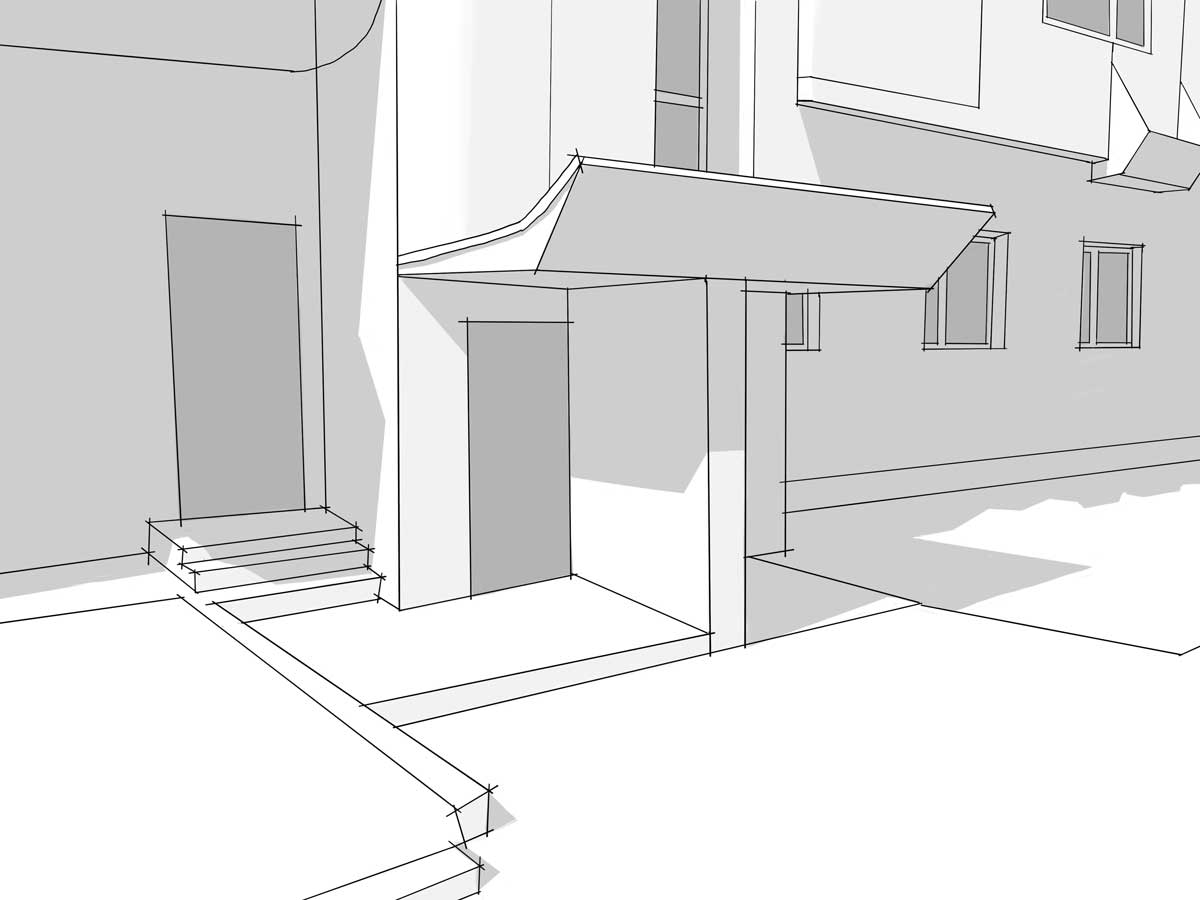 In other entrances, the play of shadows was created by the angular deepening of the entrances and the angular ledges of platforms and stairs.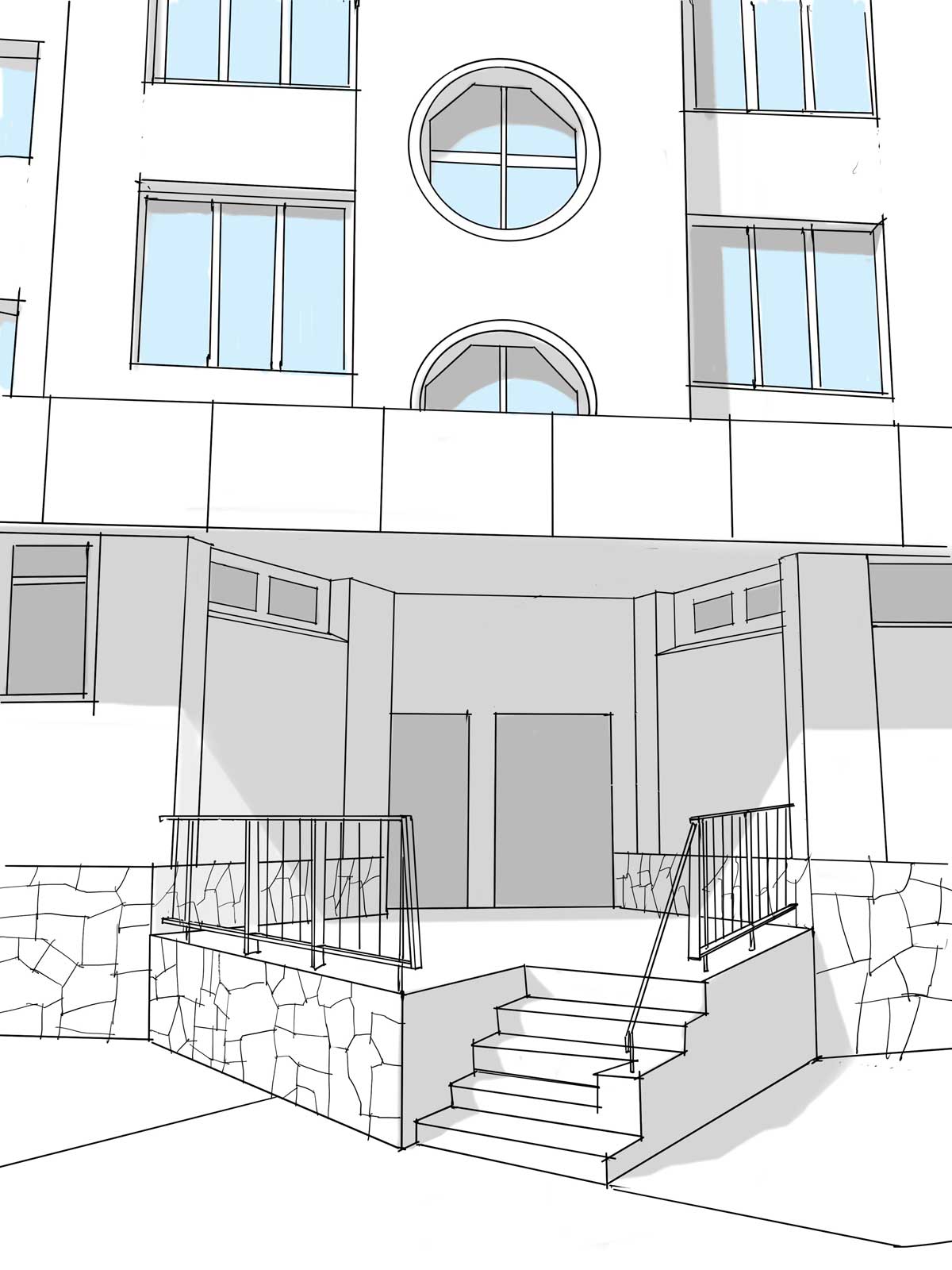 The walls were not only straight. There were also arc shapes. The architects also tried to play with the shape of benches. The modernist aesthetic of the next entrance is only spoiled by the classic flower pot, most likely placed by the residents themselves.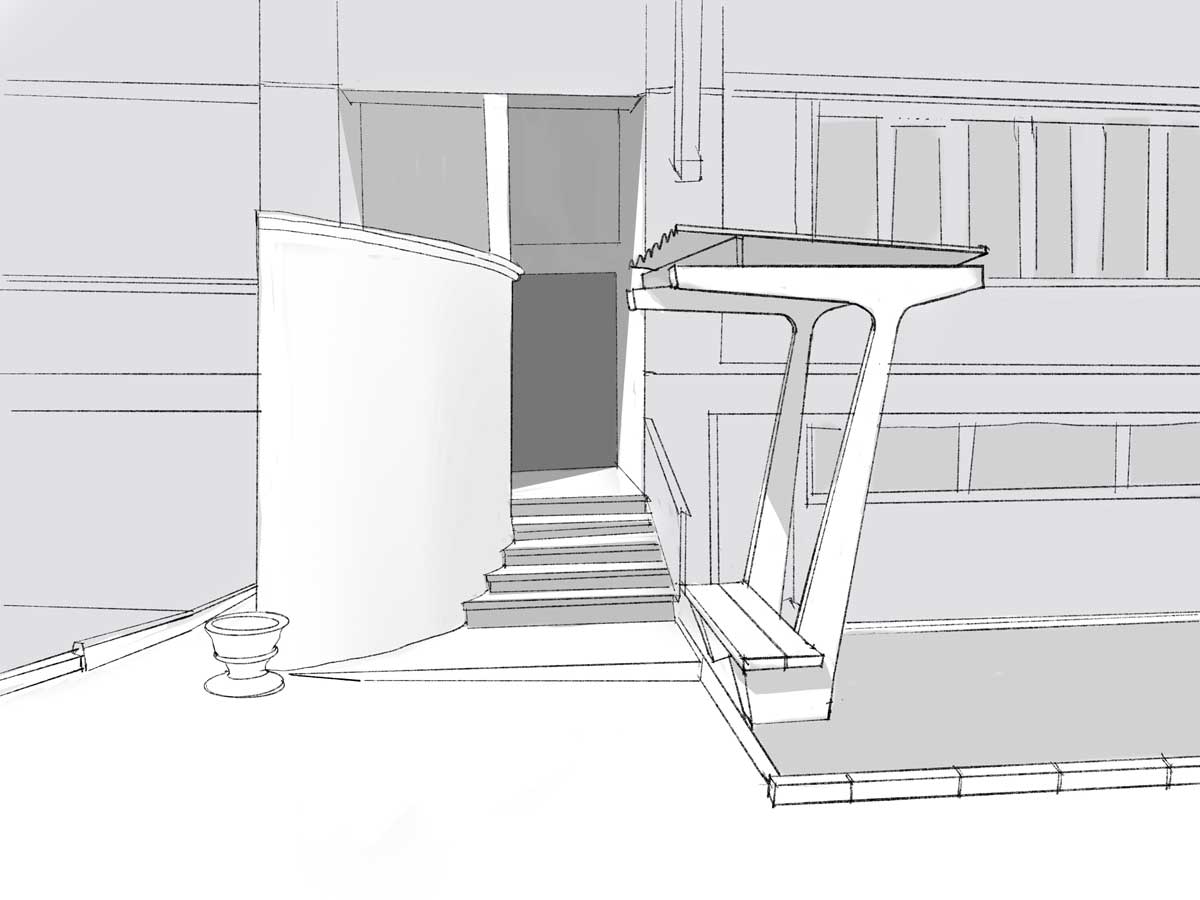 Finally, there were less massive entrances made of simple metal pipes, gratings and graceful concrete canopies.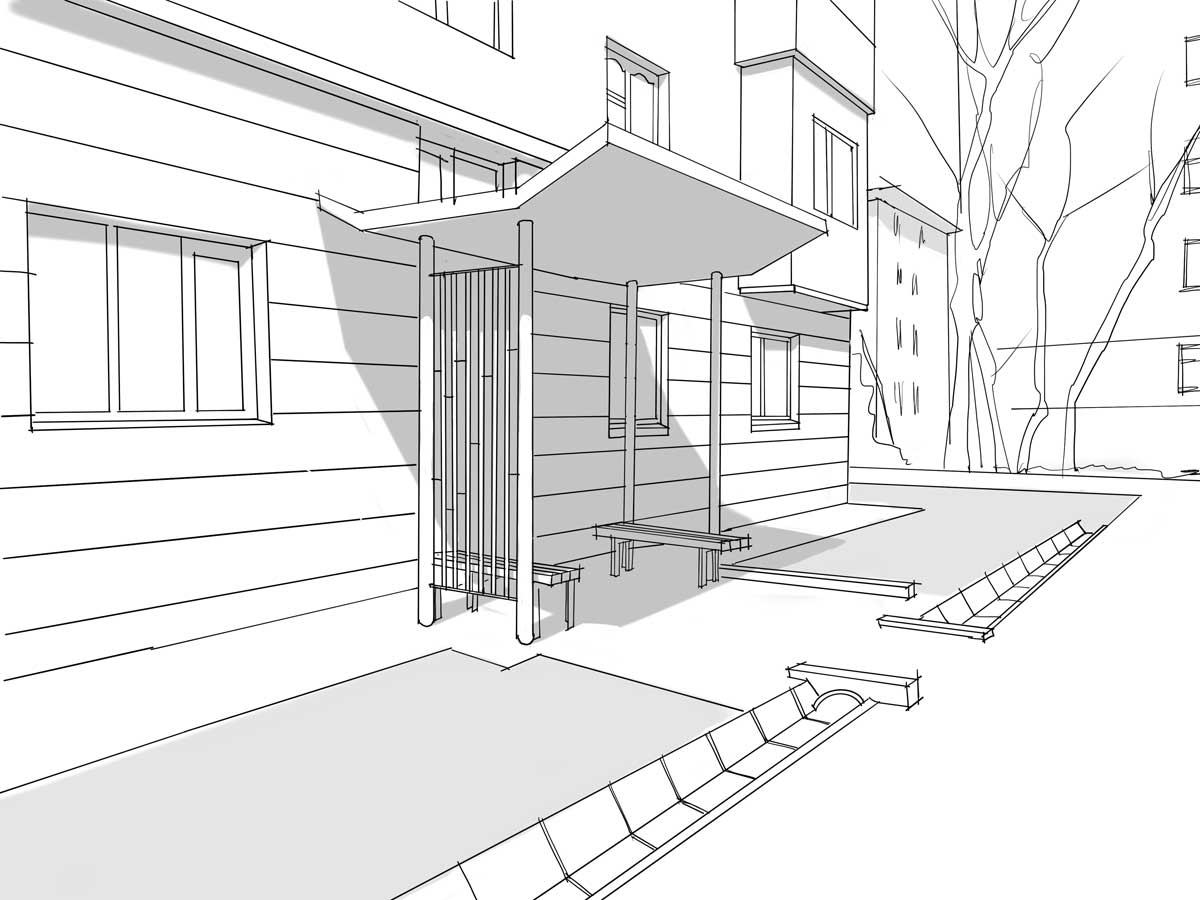 In some houses, residents, realizing the importance of the role of entrances as accents in rather simple-shaped houses, tried to further emphasize and enhance them by painting them in bright colors.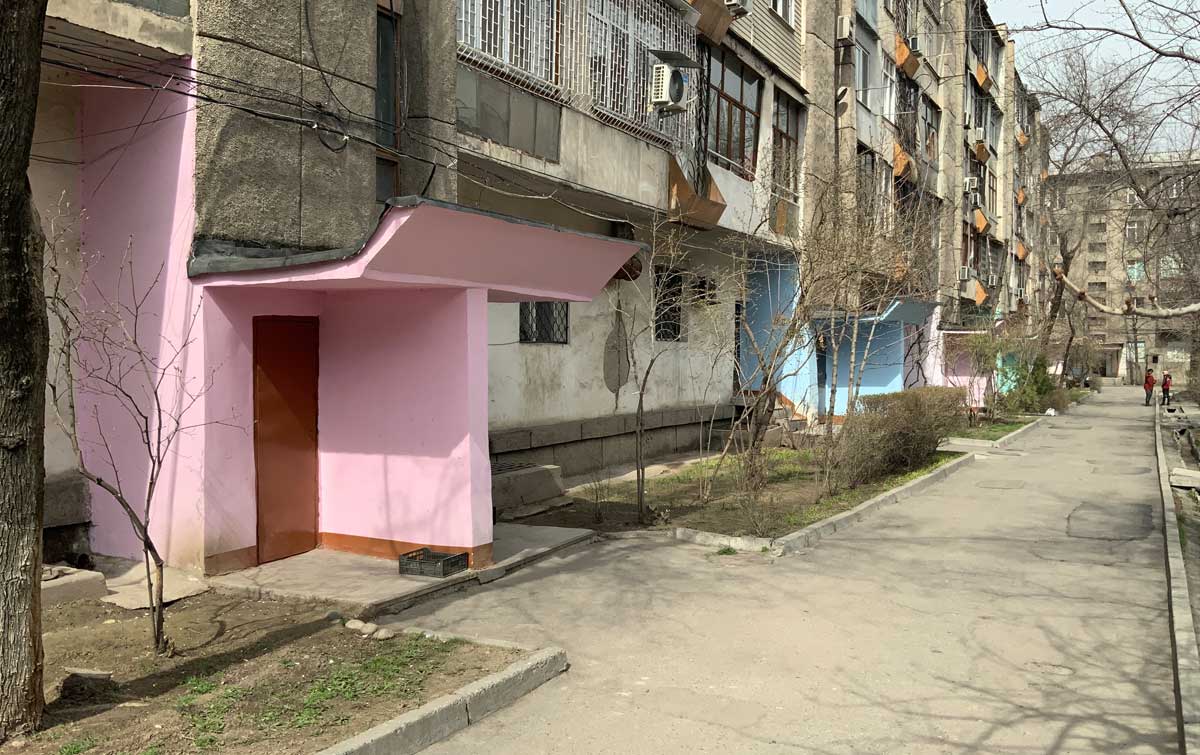 Now, let's take a look at the variations in the design of staircases. The stairs themselves were all the same, but architects tried to come up with different shapes of windows. For example, here we see octagonal windows...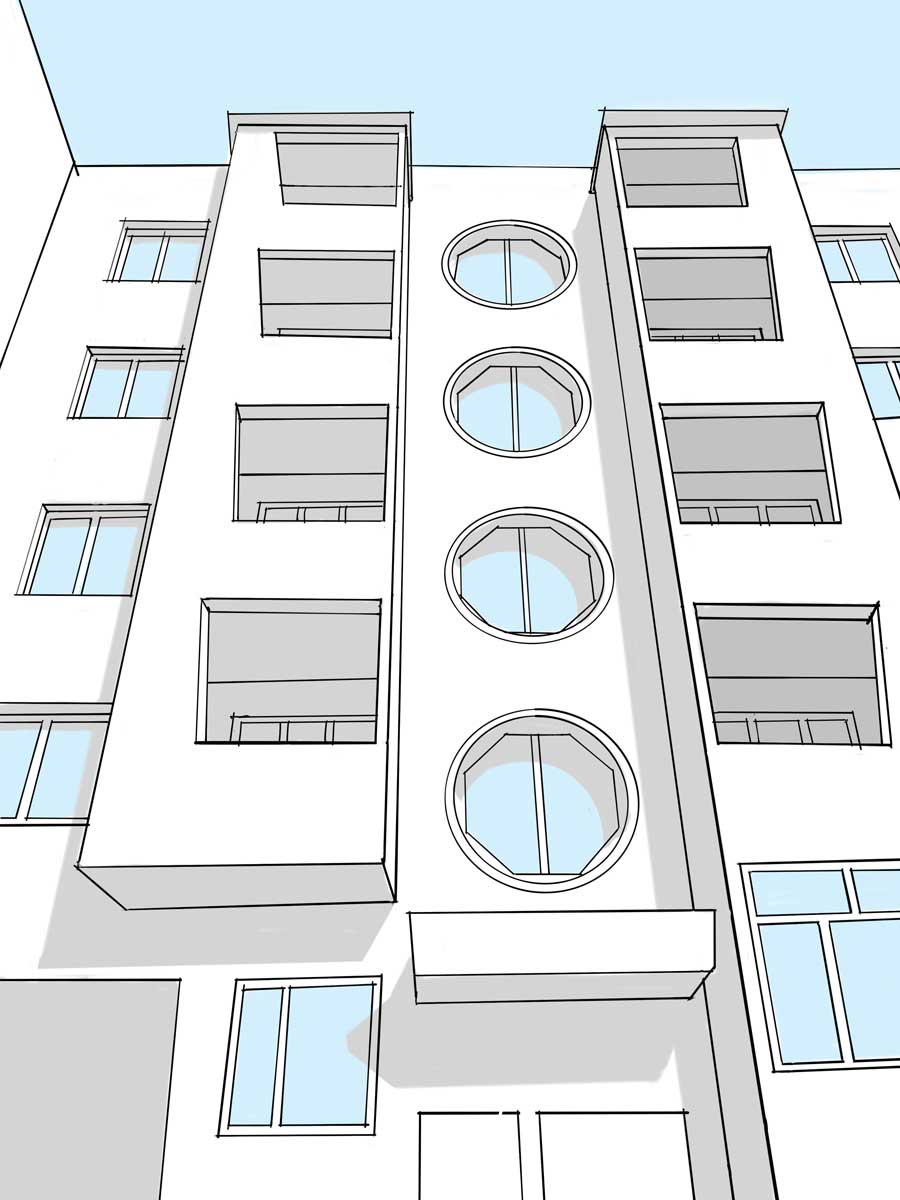 ... square checkered windows ...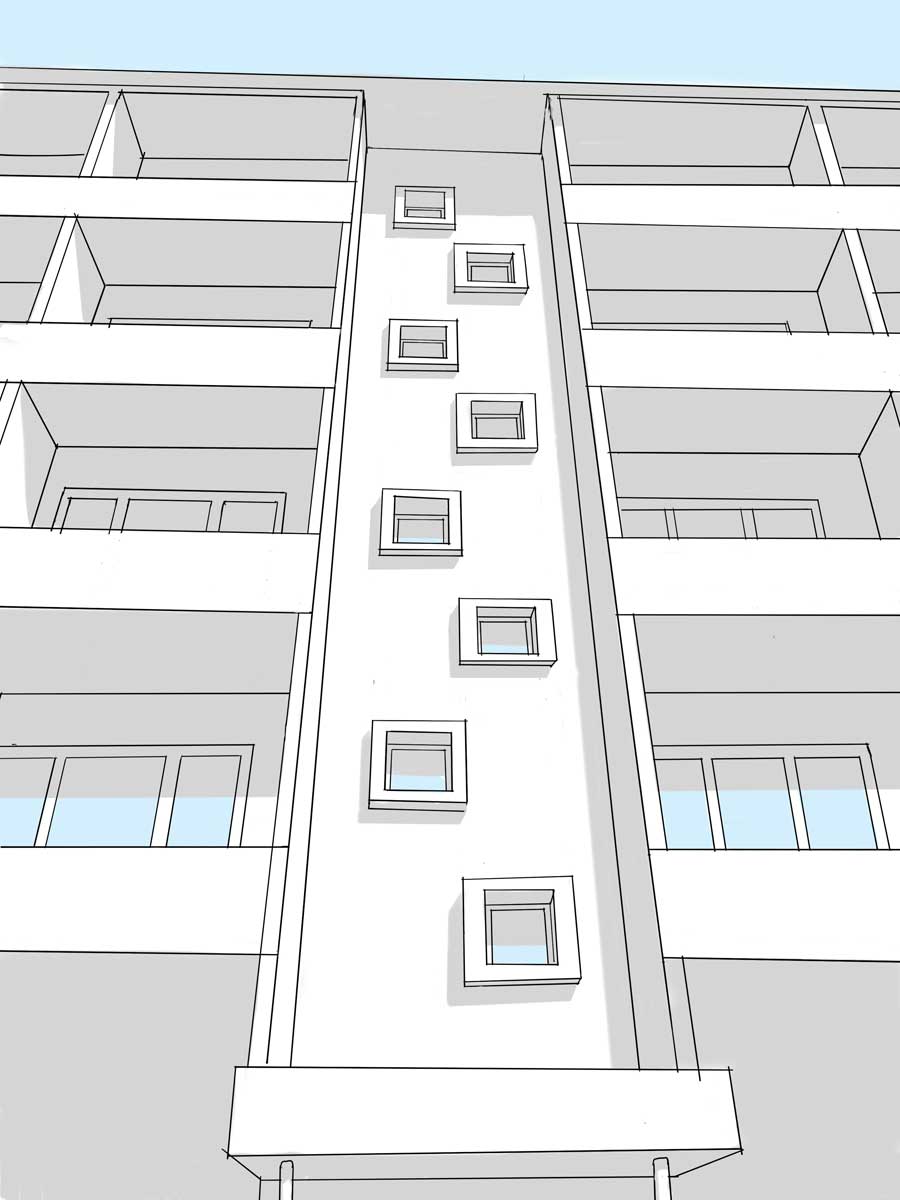 ... and very simple rectangular windows with no claim to design.

There are also more sculptural forms with rounded corners and slightly recessed windows ...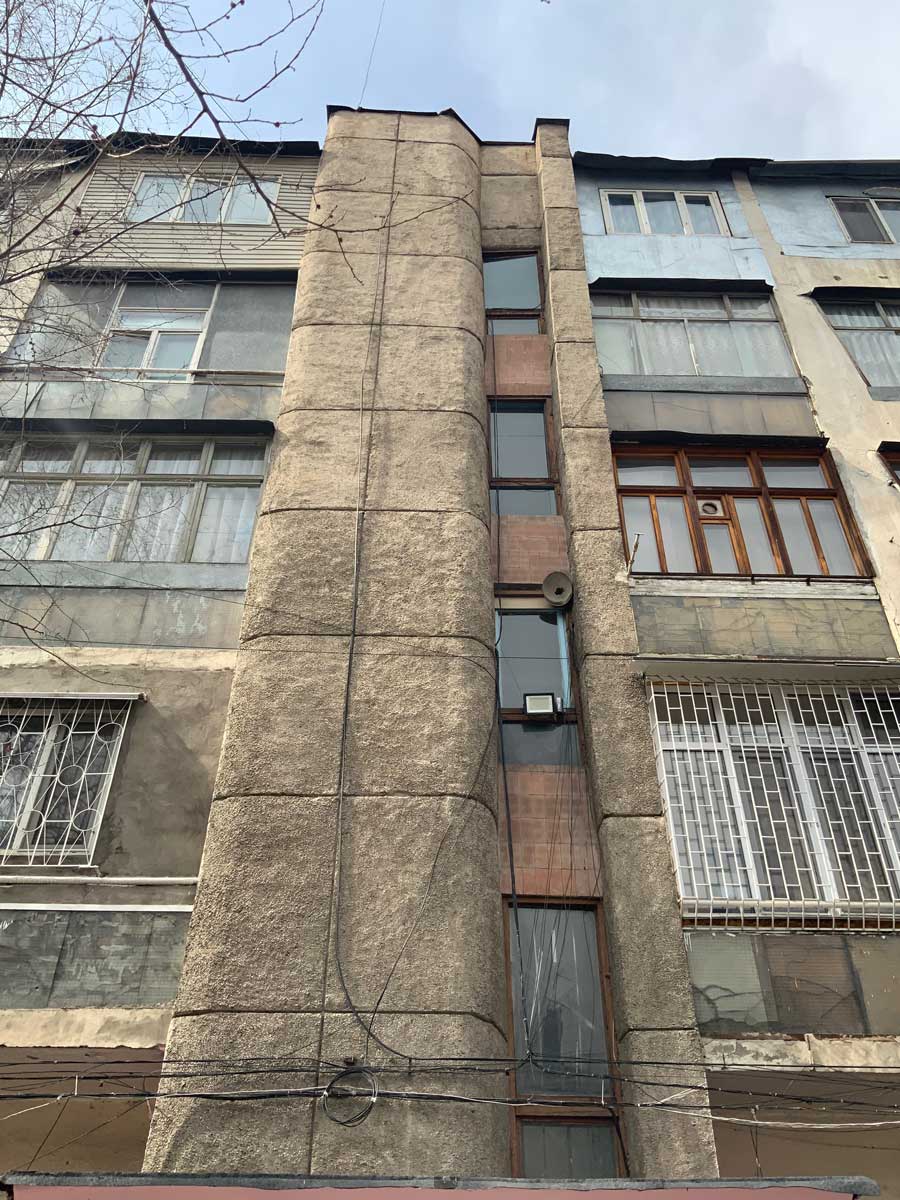 ... or with vertical panels ...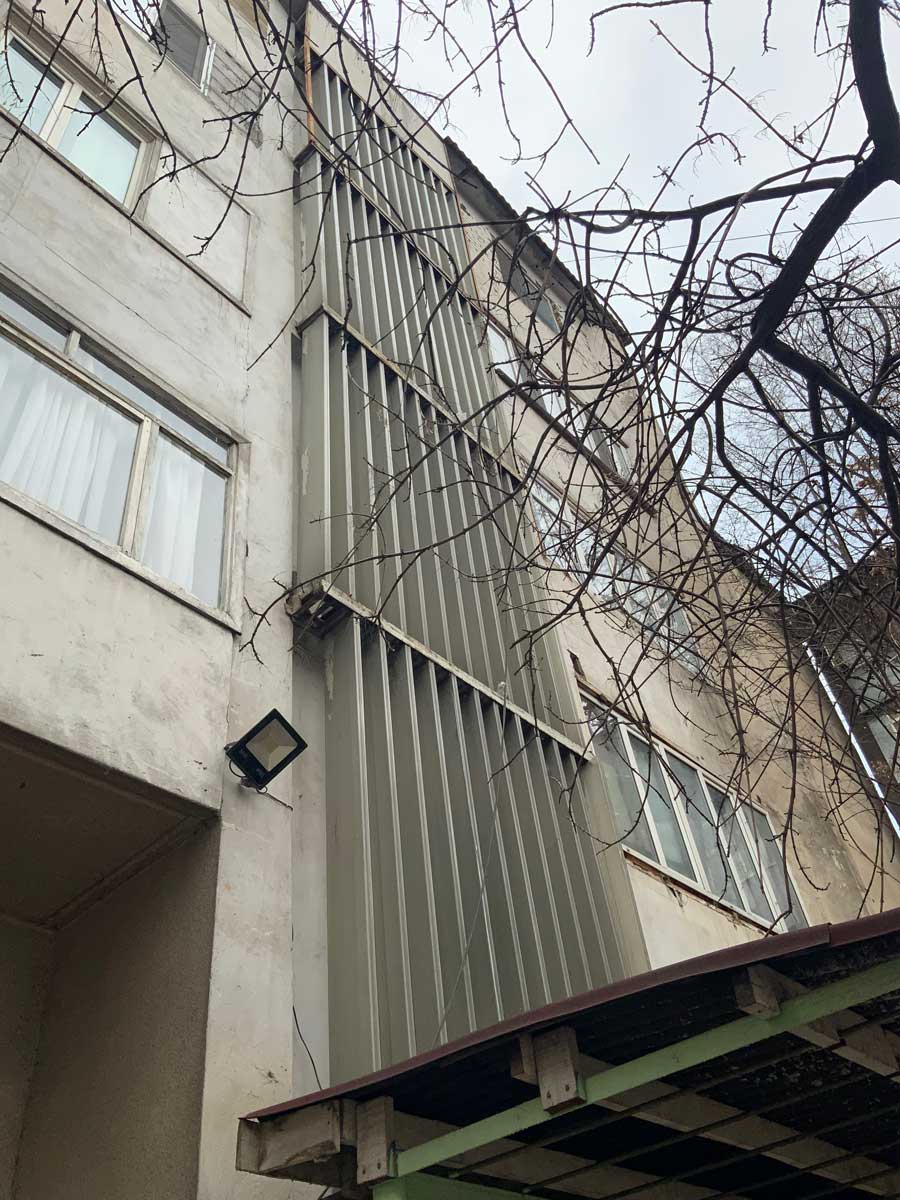 ... with concrete panels stylized as a traditional Kyrgyz ornaments ...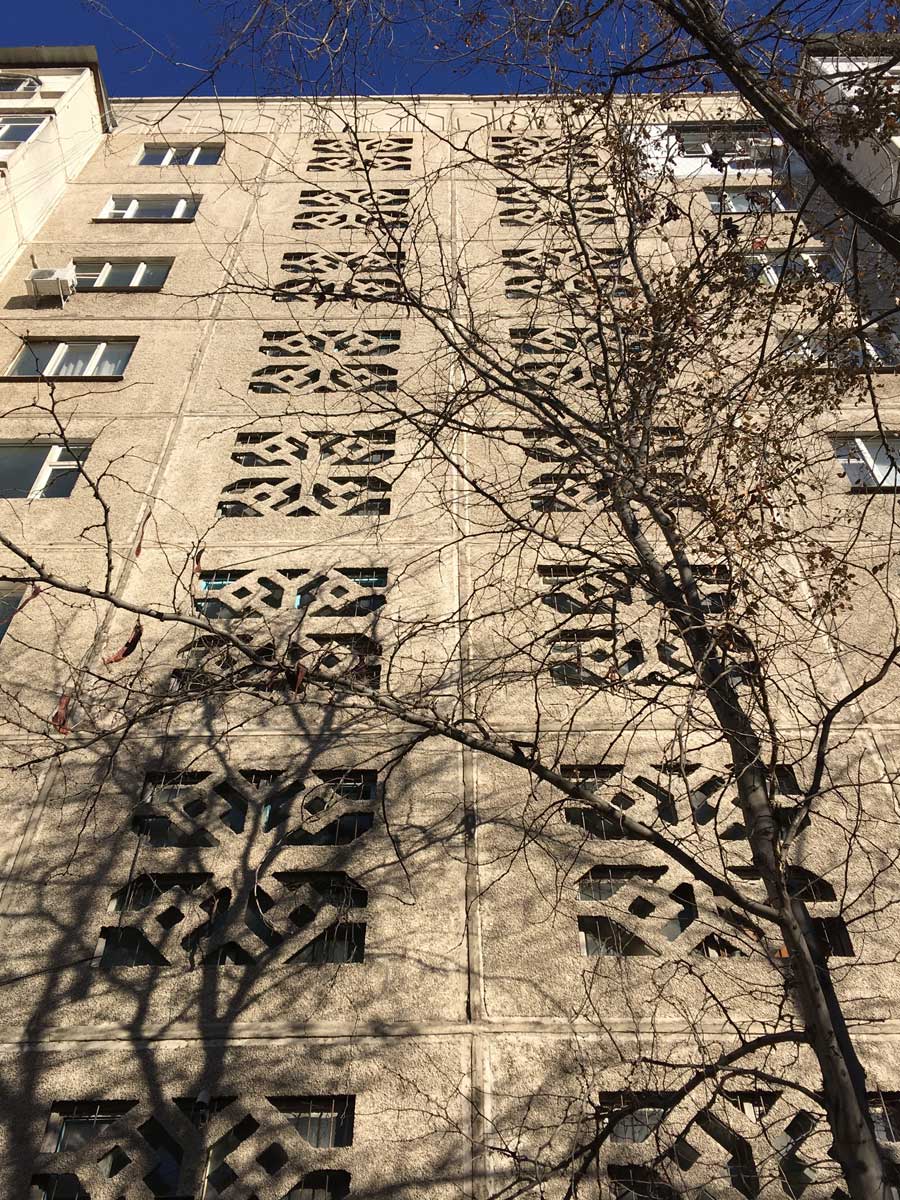 ... and just large glass panels.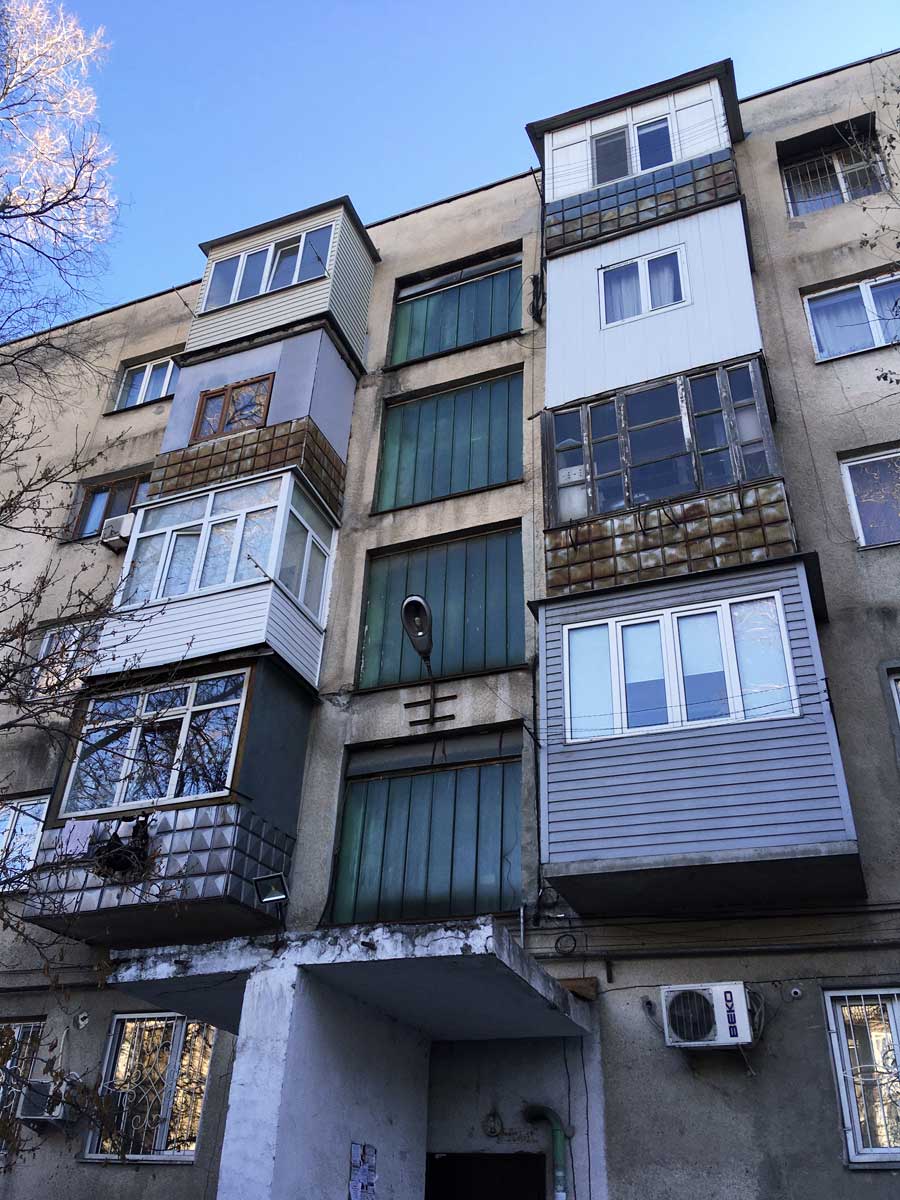 The next topic is balconies. One of the most interesting themes is balconies with beveled and smoothed corners, elegant lattice made of metal rings and beautiful metal flower bed.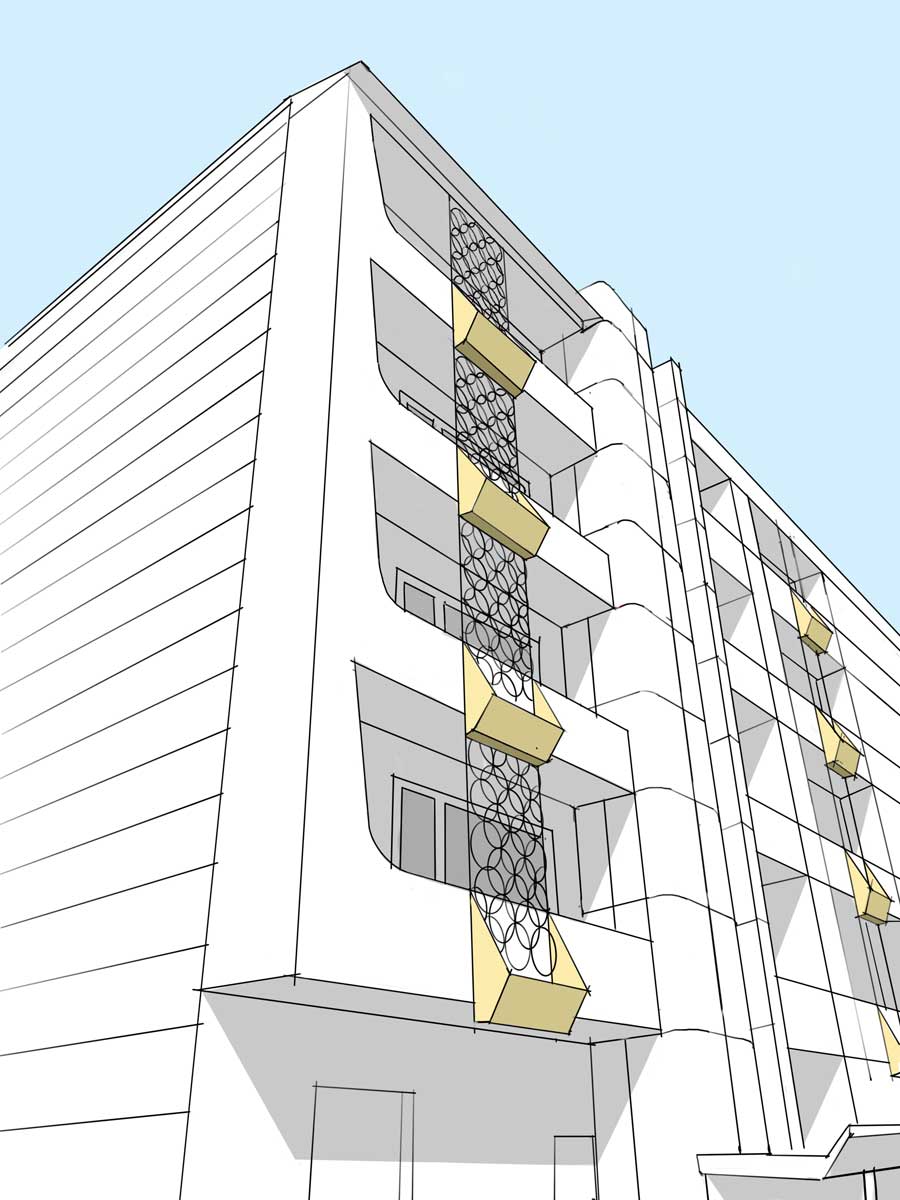 Unfortunately, in the post-Soviet era, almost all residents decided to close the balconies with windows, so the balconies lost their original plasticity and look rather ugly.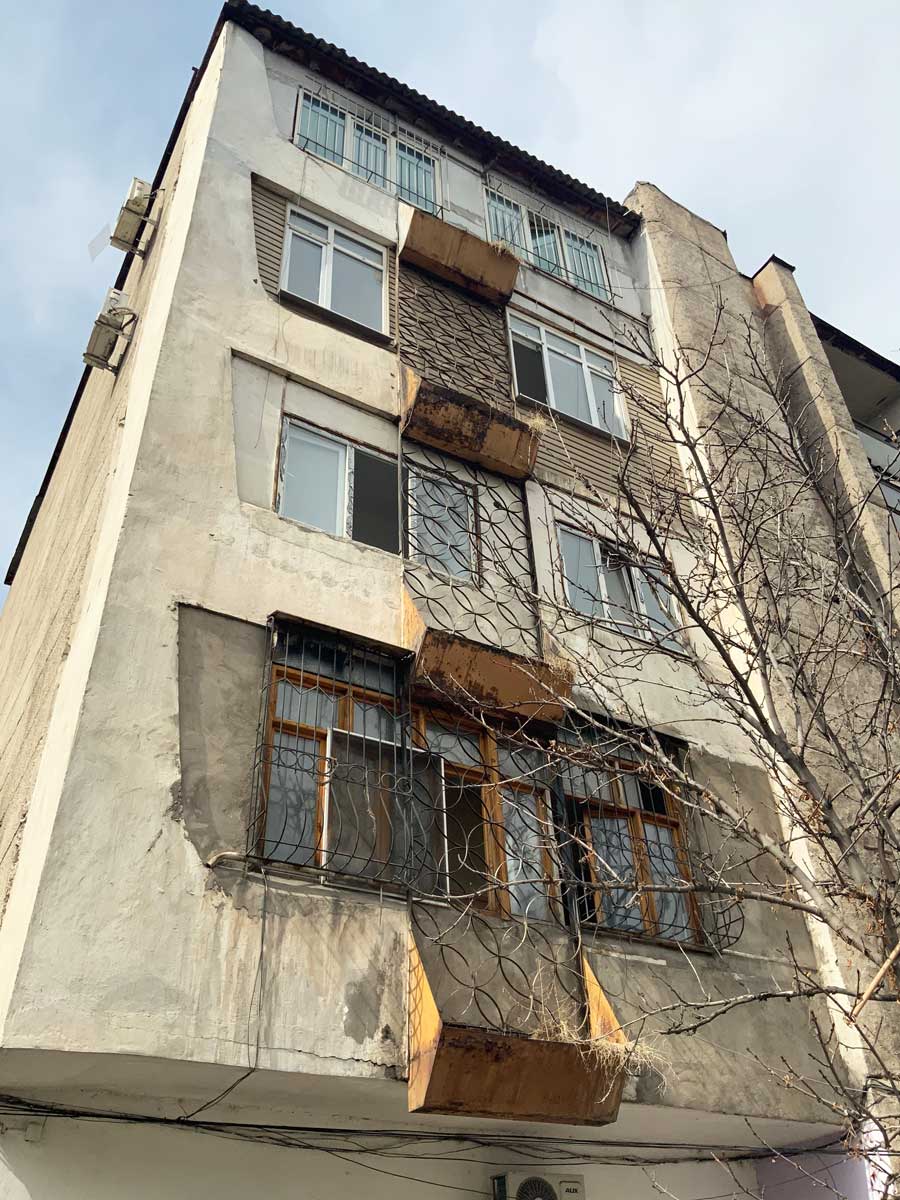 Another interesting design solution is balconies with convex windows.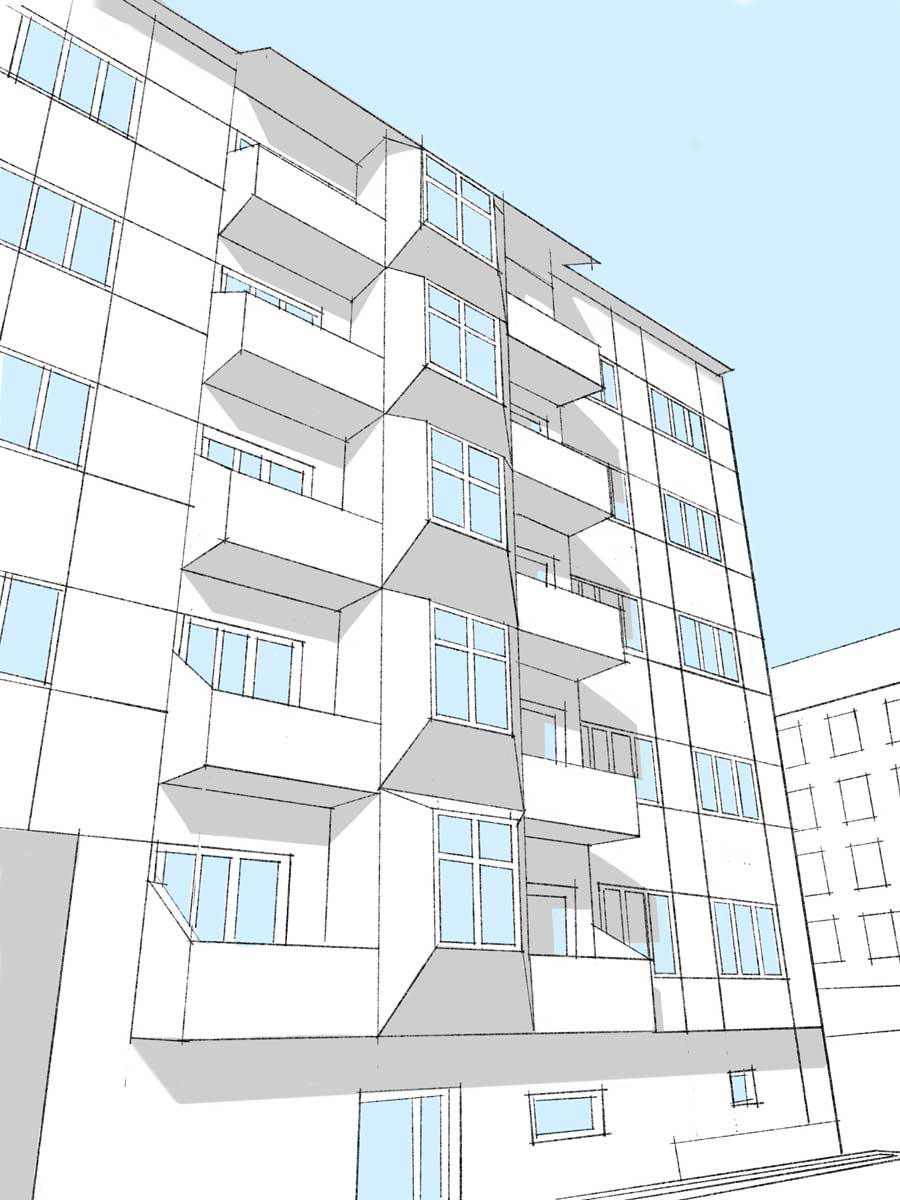 There are several houses with individual non-serial design, where architects had a little more freedom and less standard design solutions, as is the case with these semicircular balconies.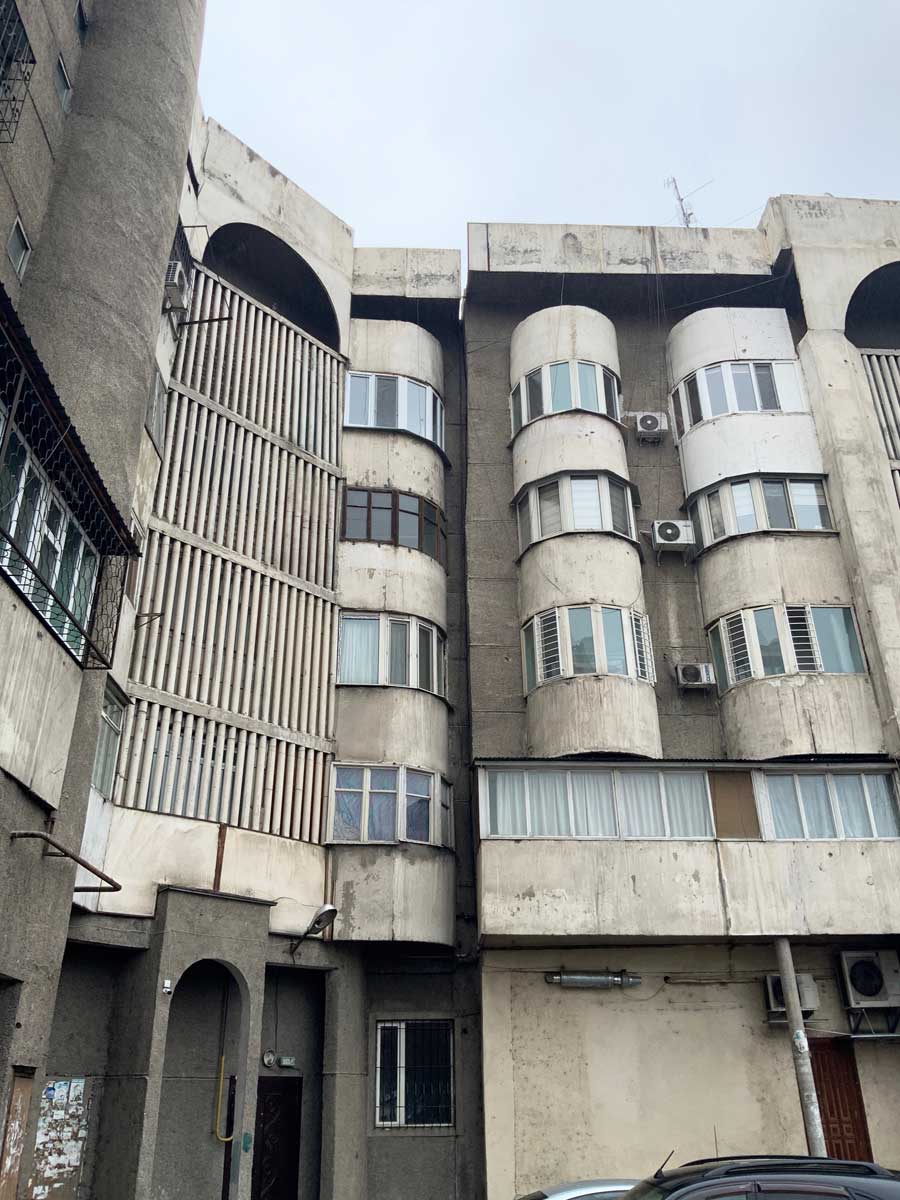 In older houses, balconies have a very simple shape and metal railings ...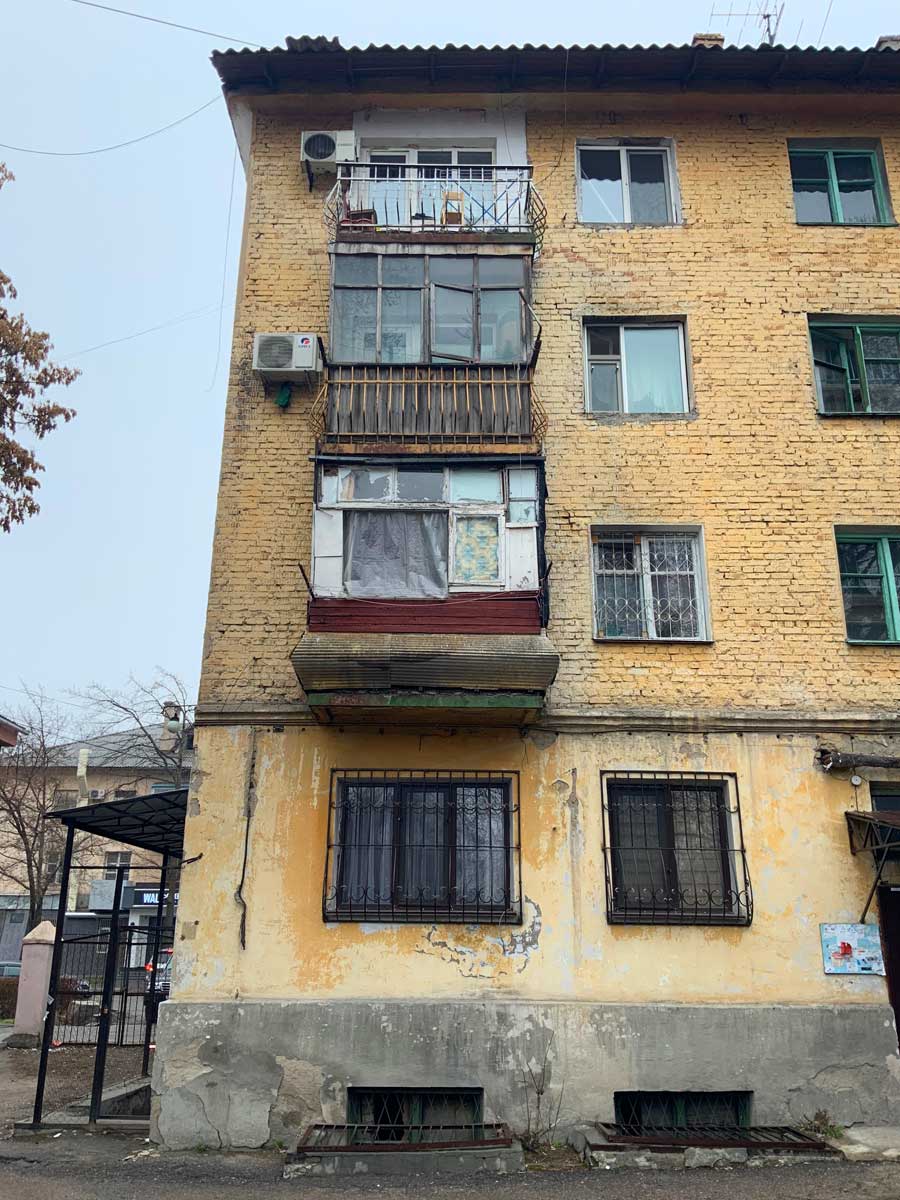 ... and today they provide houses with their original flavor and a real sense of time.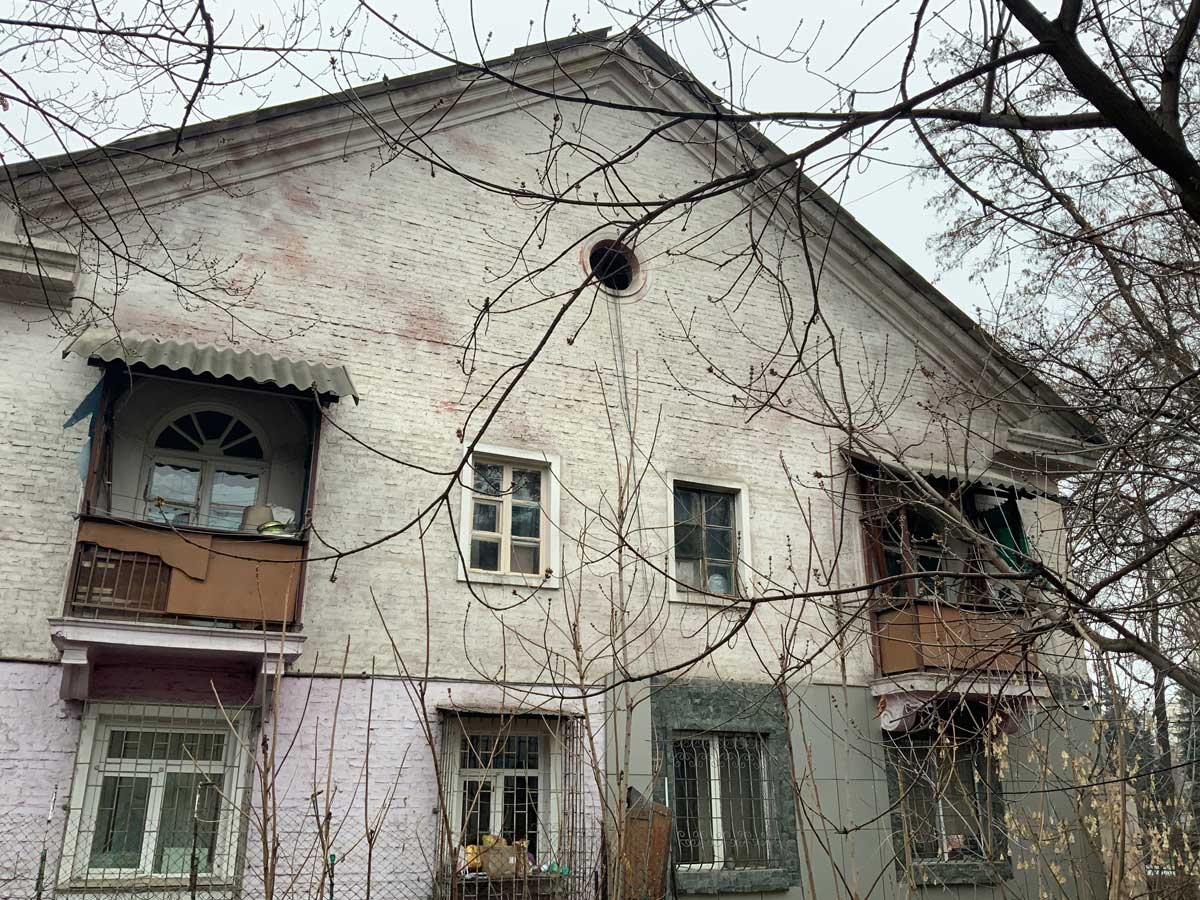 Due to the perimeter enclosure of the courtyards, one can always see interesting islands of light in them, especially in the morning and evening. They contrast strongly with the shadows from the houses on the other side of the courtyard.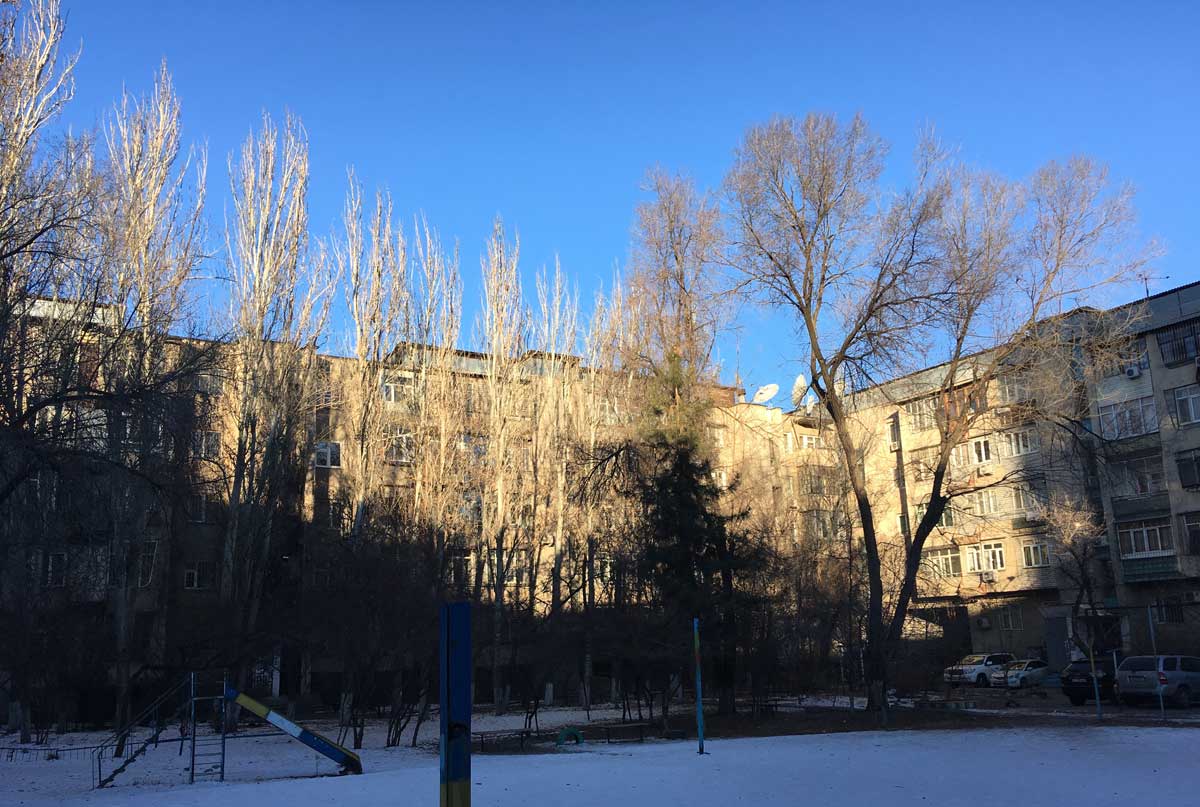 It is at this time that the courtyards become very picturesque. Trees complement the artistry with their intricate shapes and the complex web of branches.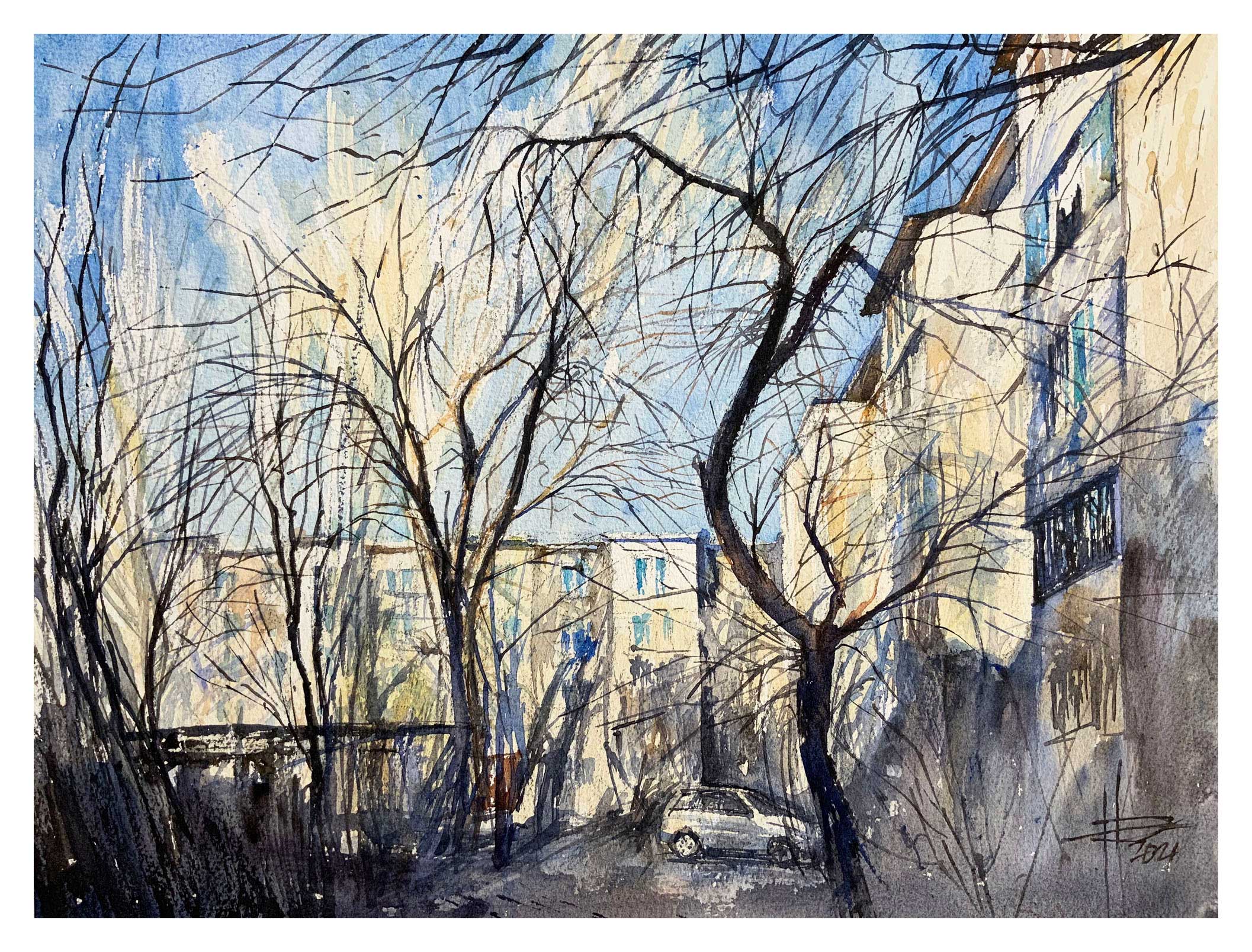 Interesting light scenes also appear in the spaces between the buildings - which are often appropriated by residents as "hidden" passages and unofficial pathways through the residential area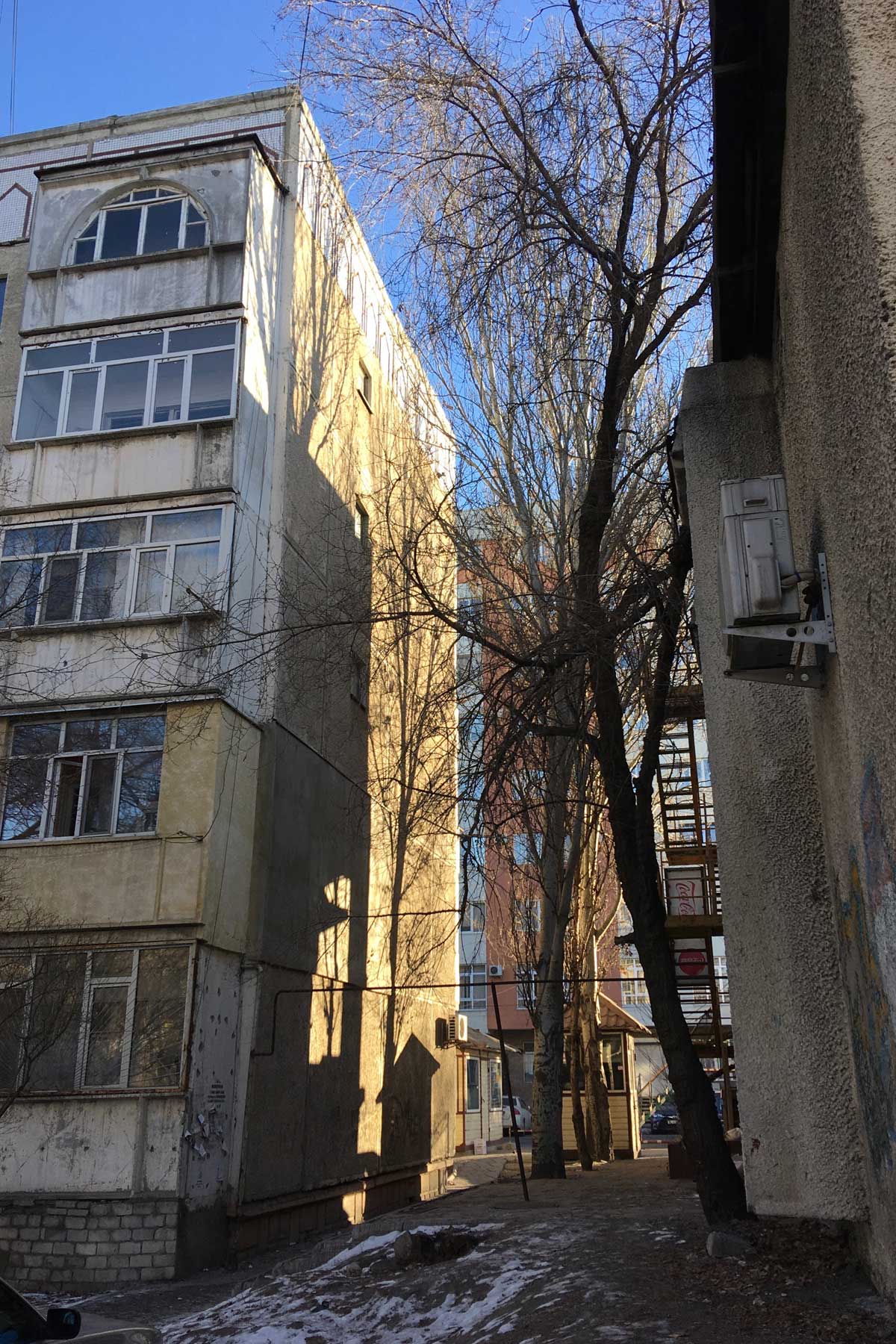 It is also interesting to look at the content of courtyards. There are many wonderful elements to be found. Some of the most unique and reminiscent of the city's Soviet past are the entrances to the bomb shelters. During the Cold War and the threat of bombing, a parallel city was being built underground with a complex system of underground spaces connected to each other by a complex system of passages. One can guess that there is another space underground only by seeing the entrances and ventilation shafts. Here are some entrances: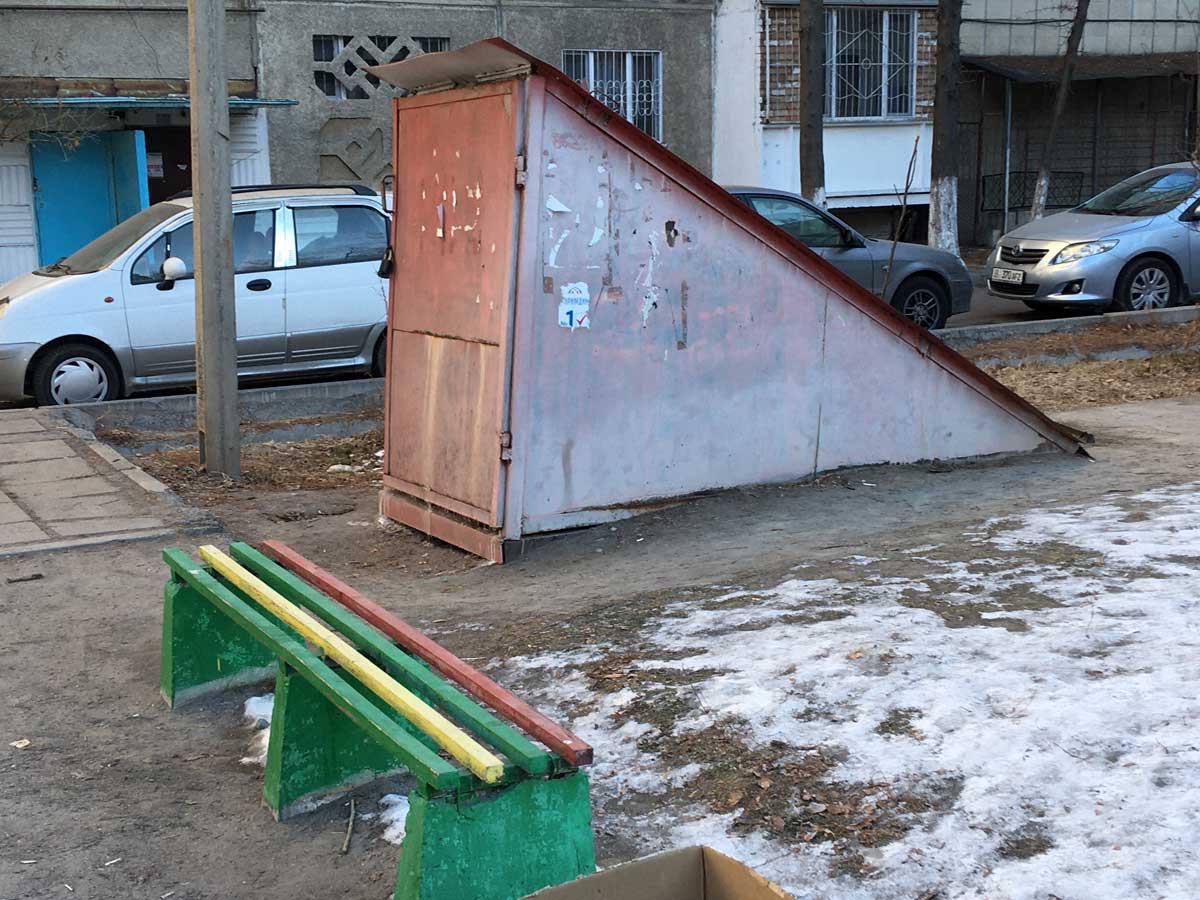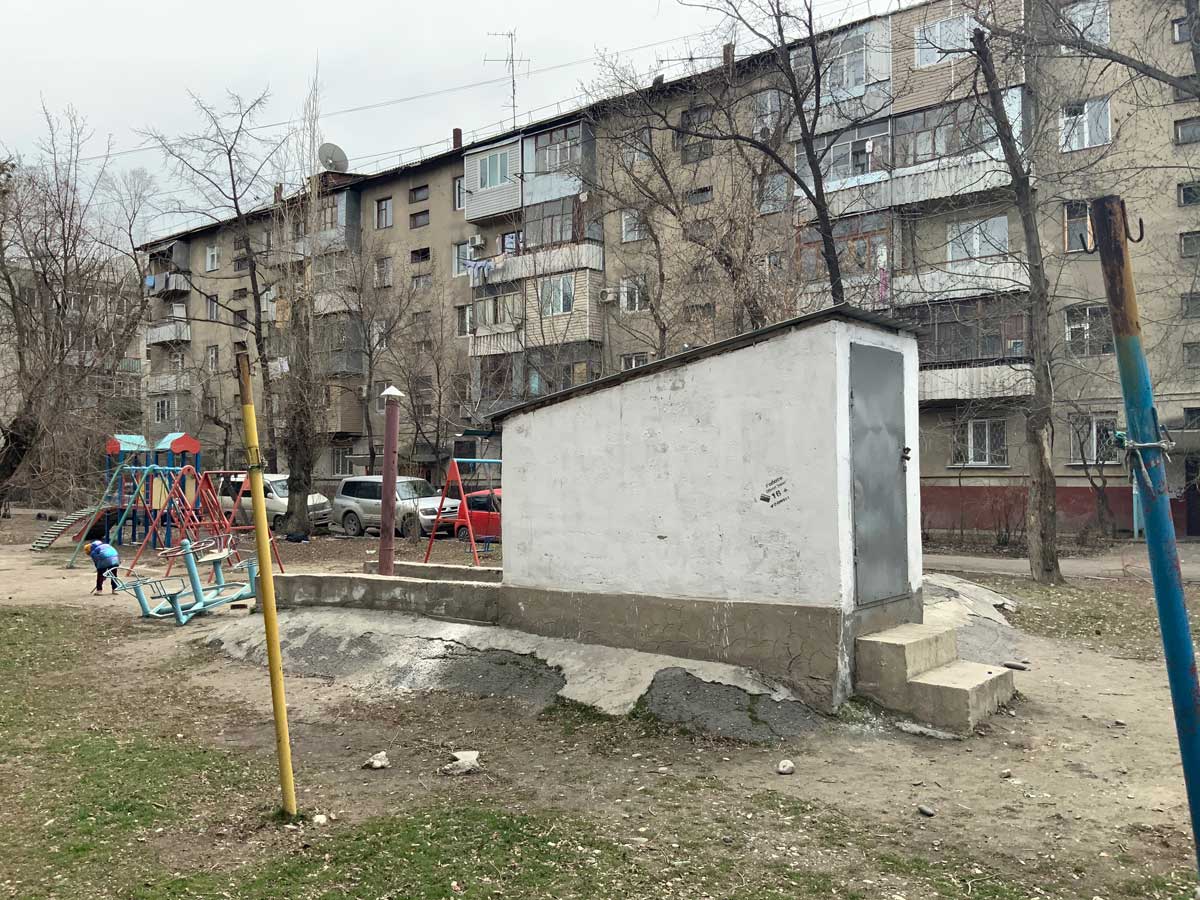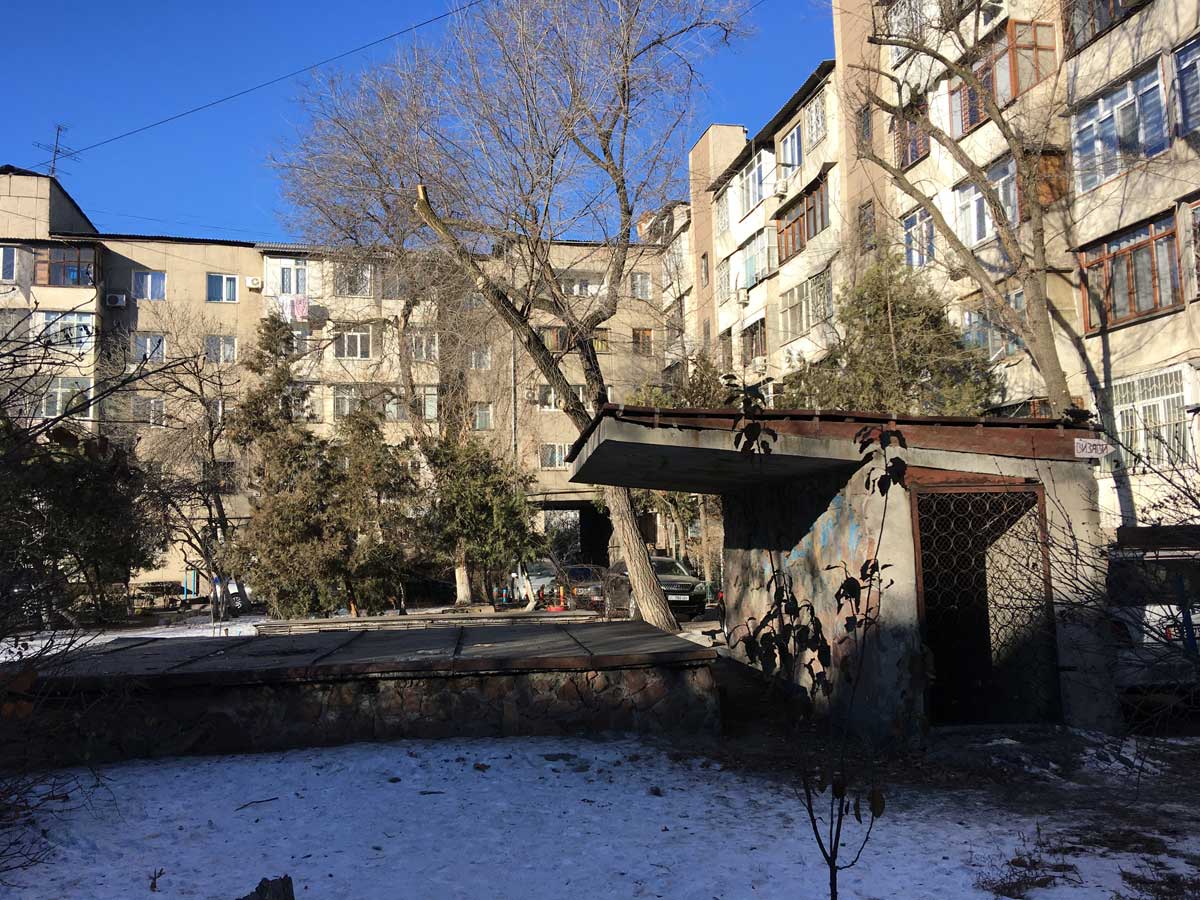 And here are some variations of ventilation shafts: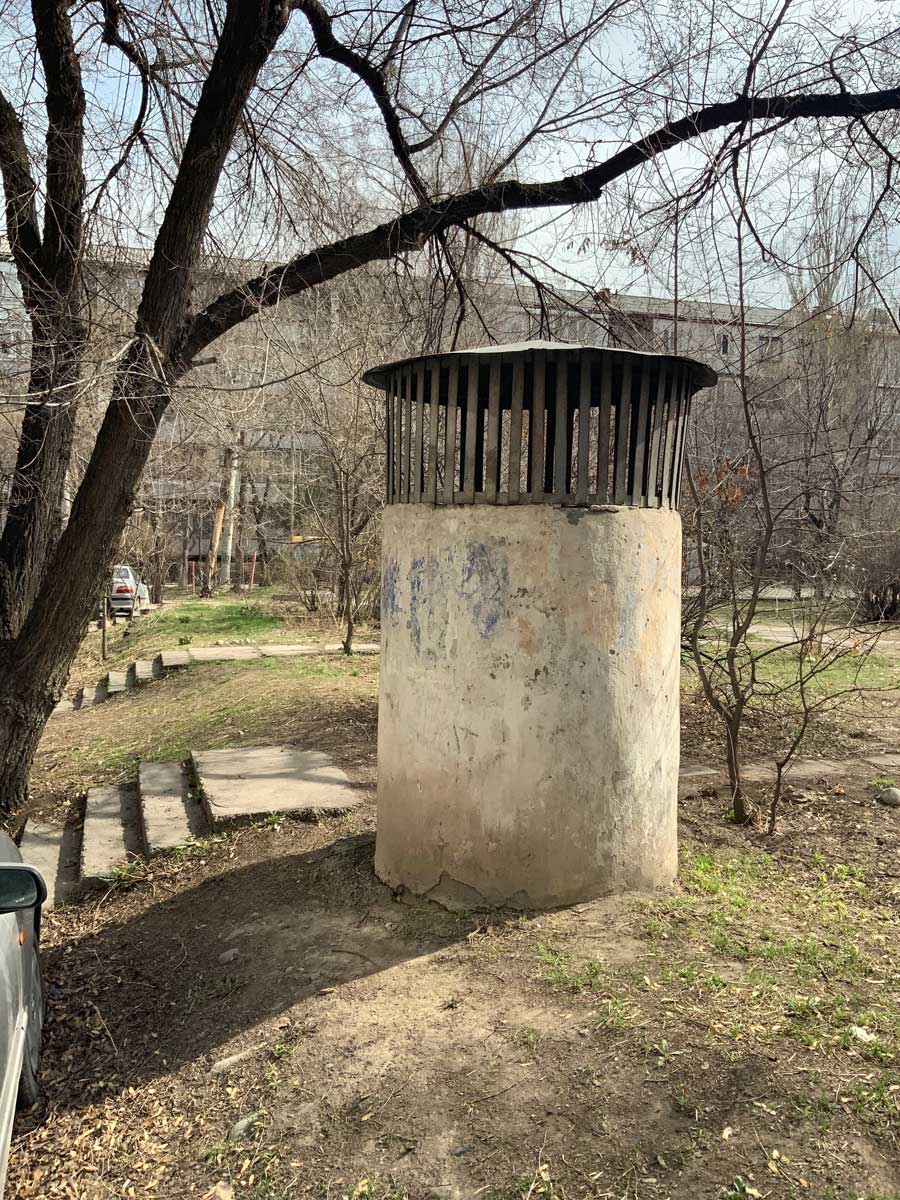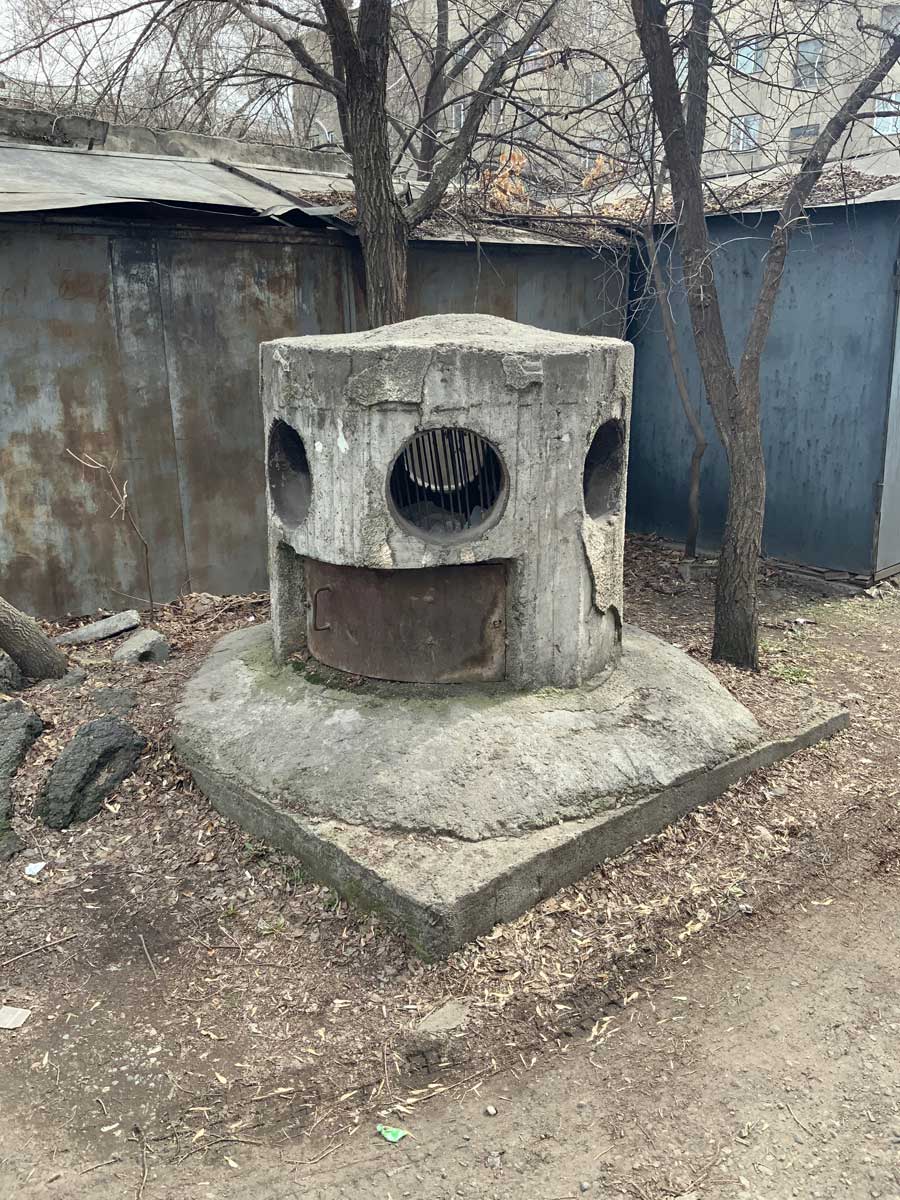 In addition to underground structures, which were possibly used by local residents as cellars, there were also aboveground storage facilities for household things and food. Some of them have survived in good shape to this day ...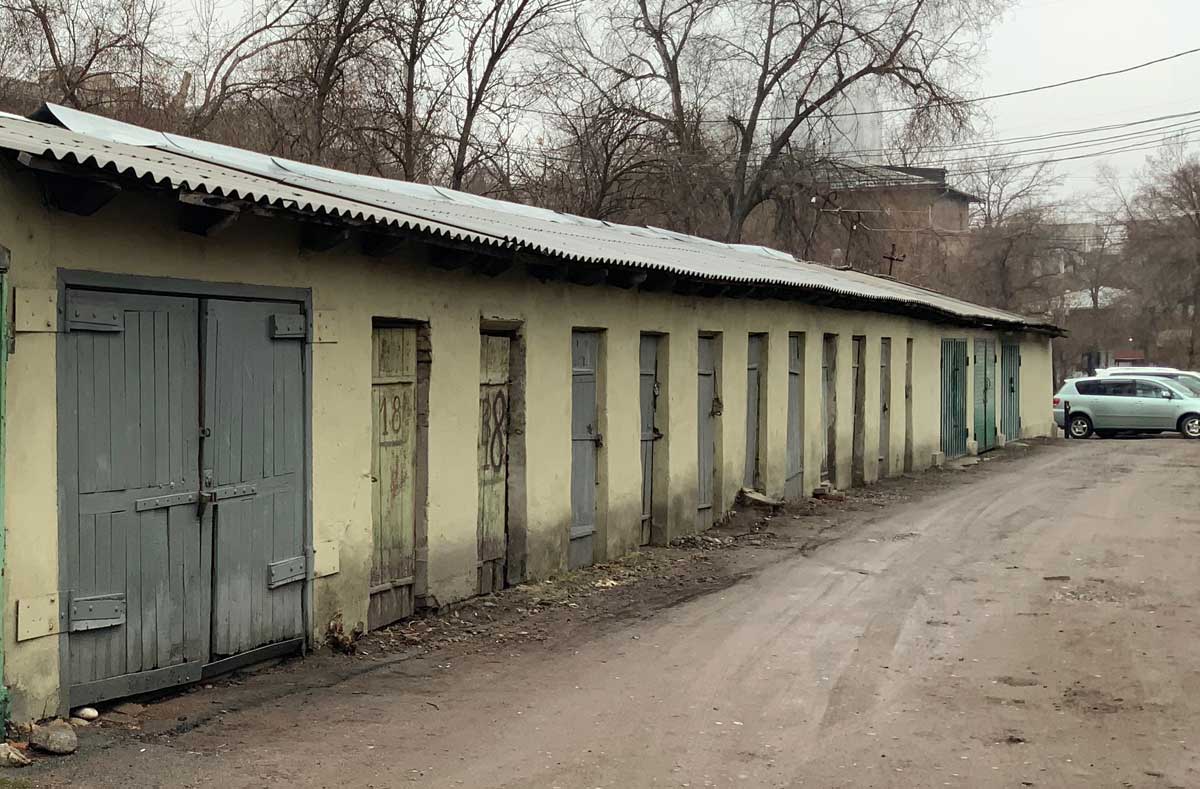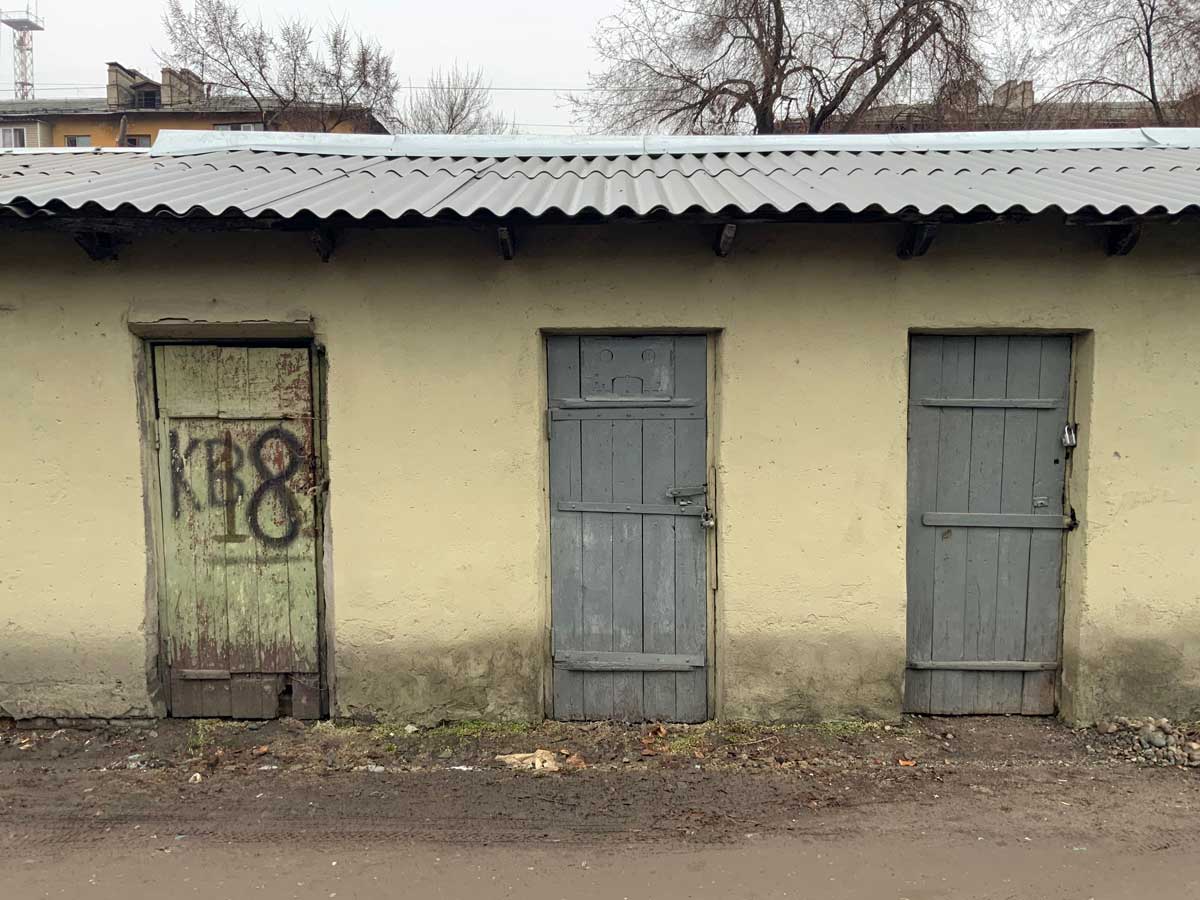 And some are already abandoned...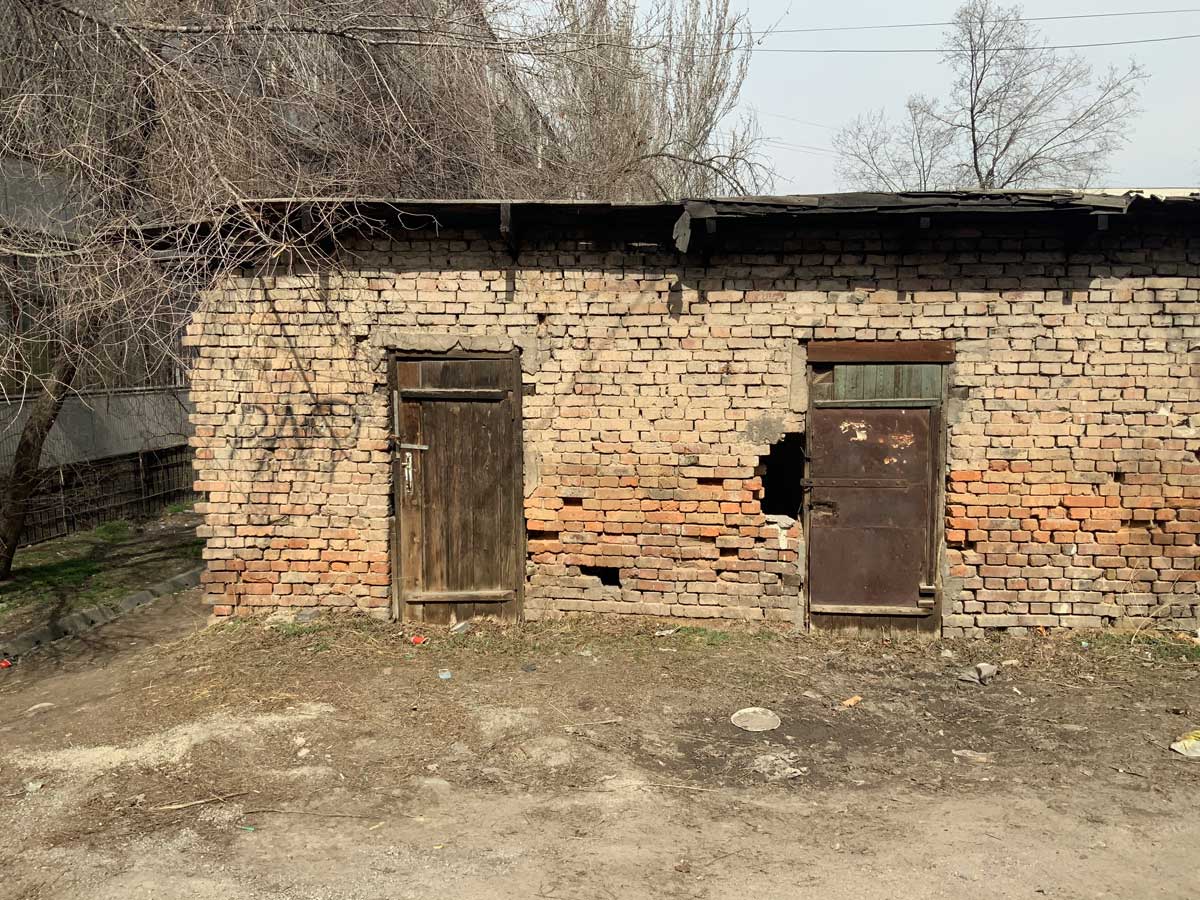 .... and look like ruins in the city center ...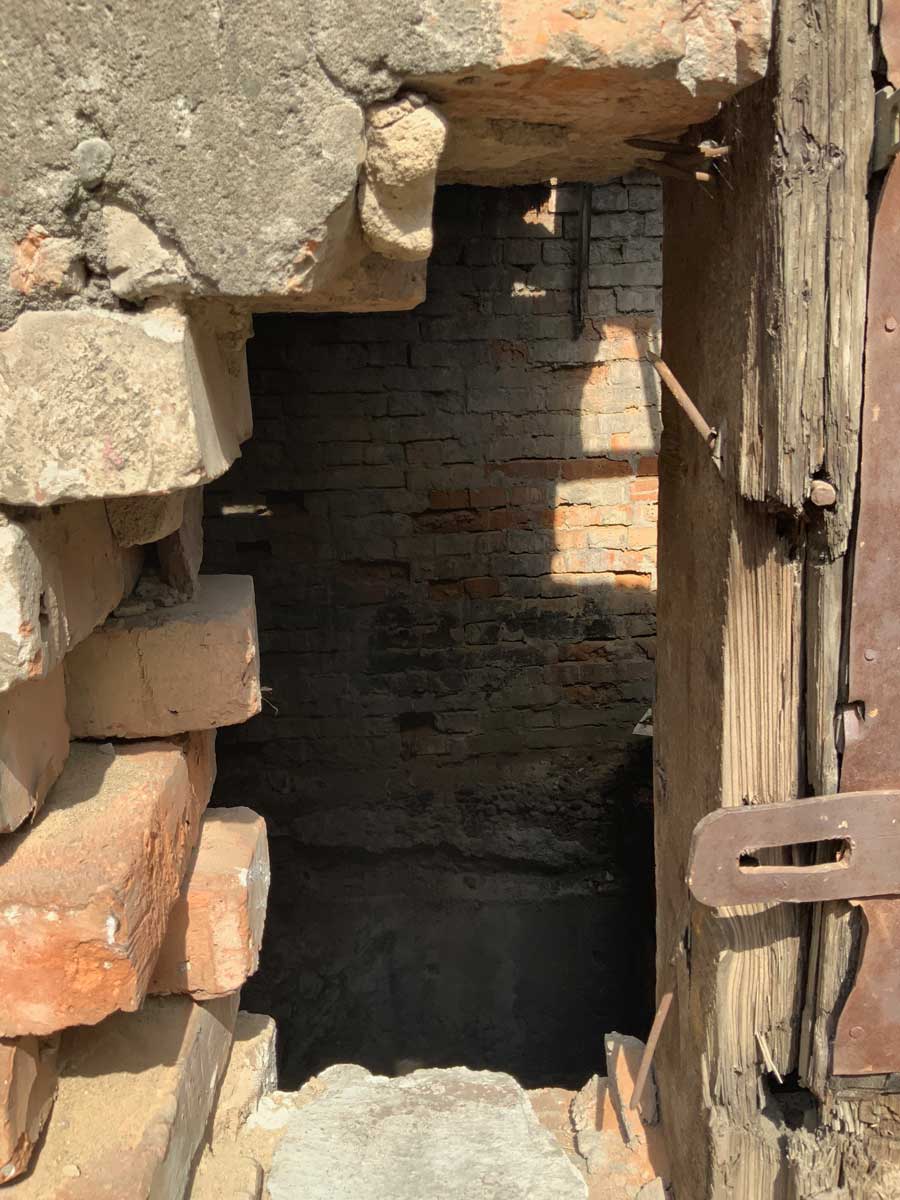 In such rooms, there were cellars where residents stored potatoes, apples and their preserves. Considering that the standard-type apartments were very small in size (from 35m2 in a two-room apartment), such premises were very important.
Some playgrounds are also made of concrete and represent an interesting kind of semi-folklore Soviet art, are also very sculptural.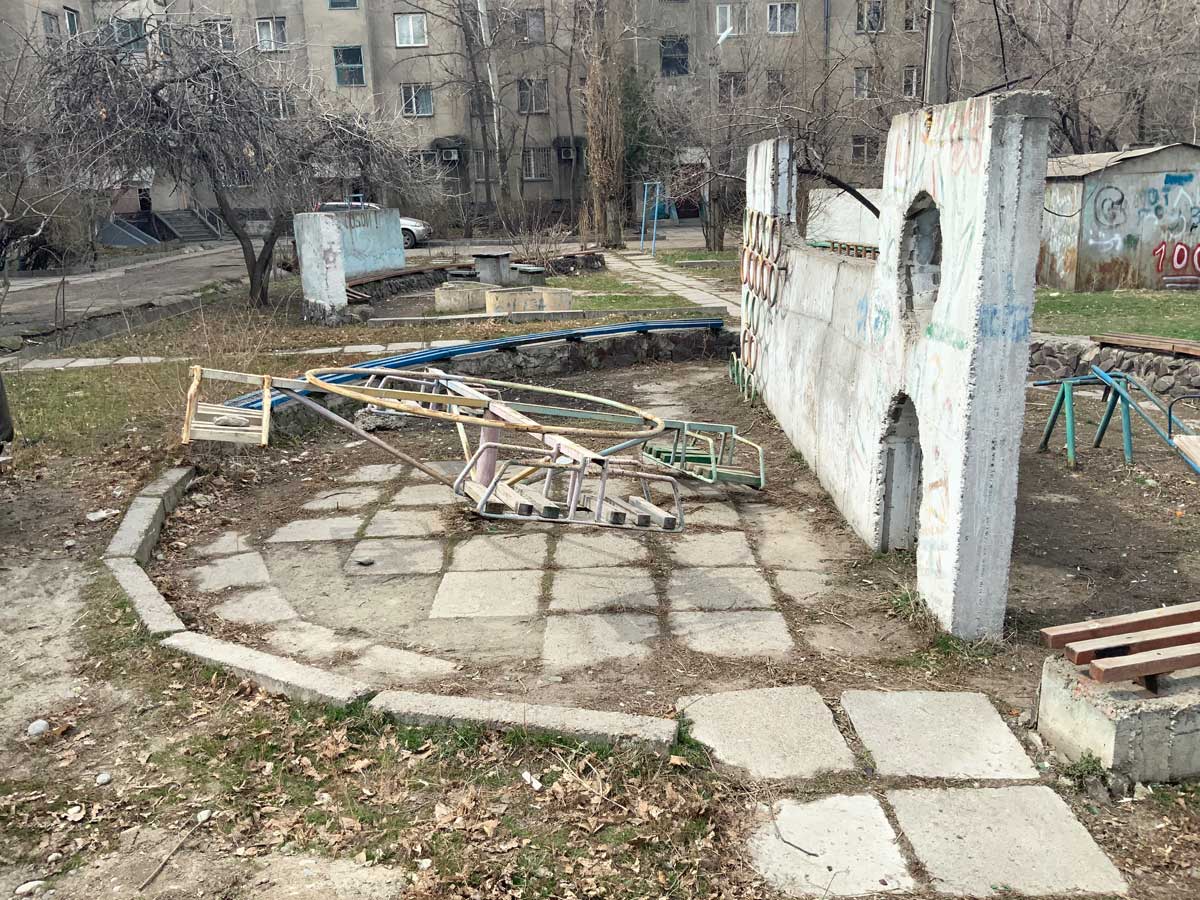 Very often, they include the Soviet motives of "progress" or "space travel", like rocket-shaped playground elements.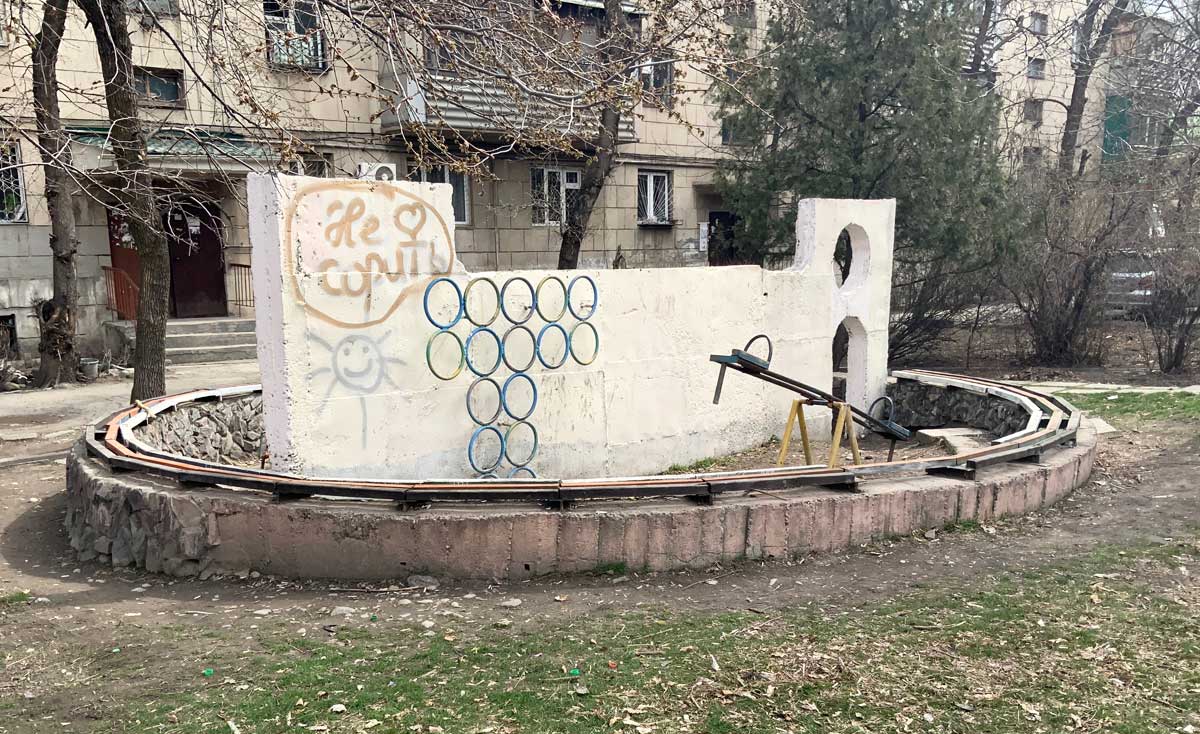 An unspoken, informal, collaboration between architects and residents emerged in the early days of the dvorsas a rebellion against modernism and communist conformity. Architects found ways to give each dvor's exterior a bit of uniqueness.  The residents went on to add flowerpots, paint entrances in bright colors, enclose their balconies in interesting ways, and convert spaces from one use to another. Human nature values consistency in design, but also craves variety in search of support for identity. "I am from Vonyuchii (stinky)," has a much more satisfying ring than, "I am from dvor#42."
Louis-Philippe Campeau shows based on archival research here in Bishkek that Soviet authorities quite strongly tried to engage residents in cultivating their own dvor but that a certain tension evolved as many residents expected the state to take care of it. So the individual appropriation of the dvor was in fact something envisioned by Soviet urban planners – however it is interesting to see how present-day residents appropriate the dvor now to their own purposes that may or may not transcend the purposes of the original designers.
For example, a resident of one of the courtyards made a garage for his car, which he lifts from the balcony of his apartment on the 2nd floor using a winch. In the past, he had a small car and this garage-kalpak completely covered it. Now his car is bigger and this mechanism is no longer lowered; it works only as a shed.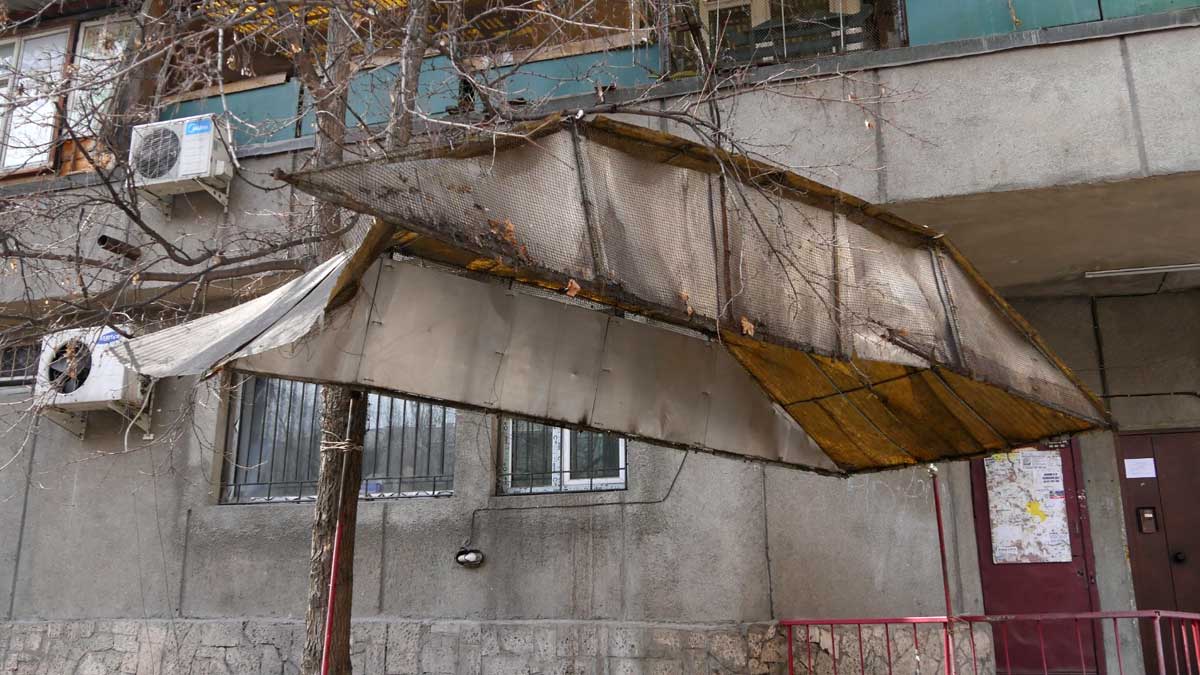 In the courtyards you can find many other elements of the past, for example a Zhiguli car ...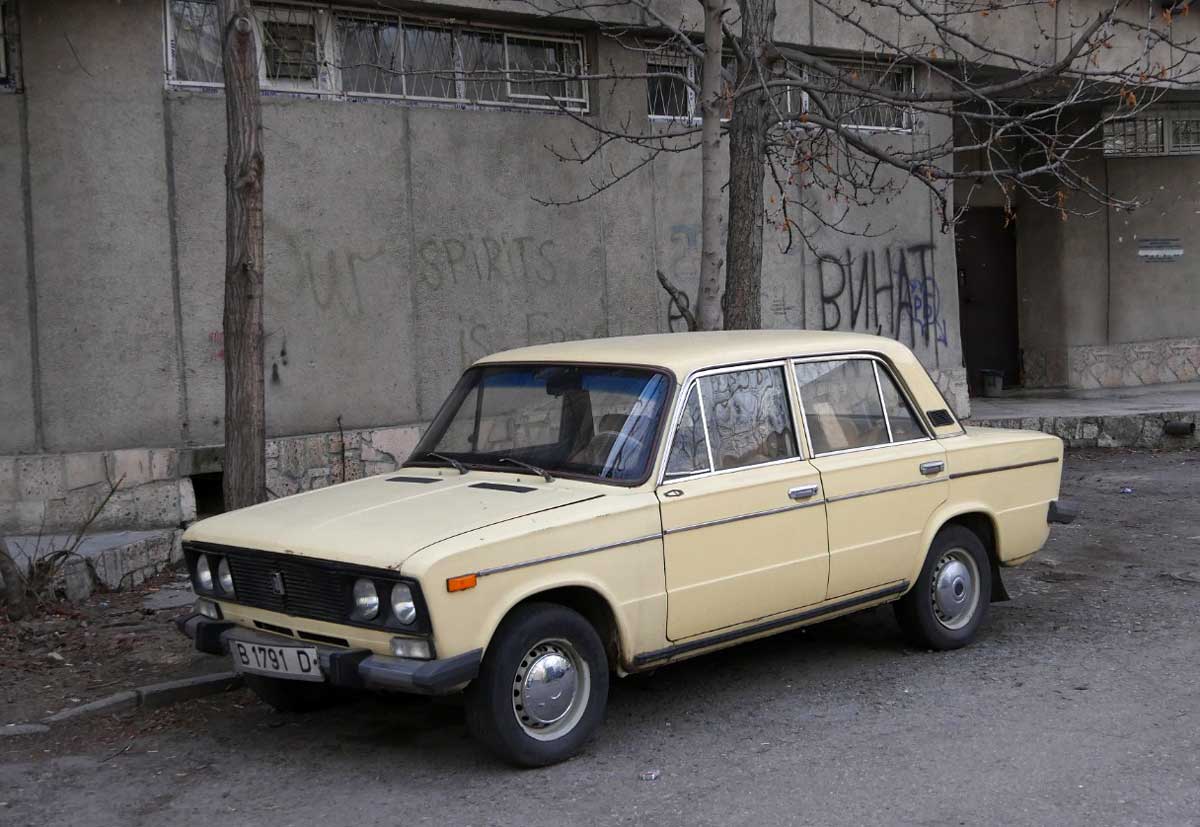 ... or this sign of the Children's courtyard club called "Three mushketeers".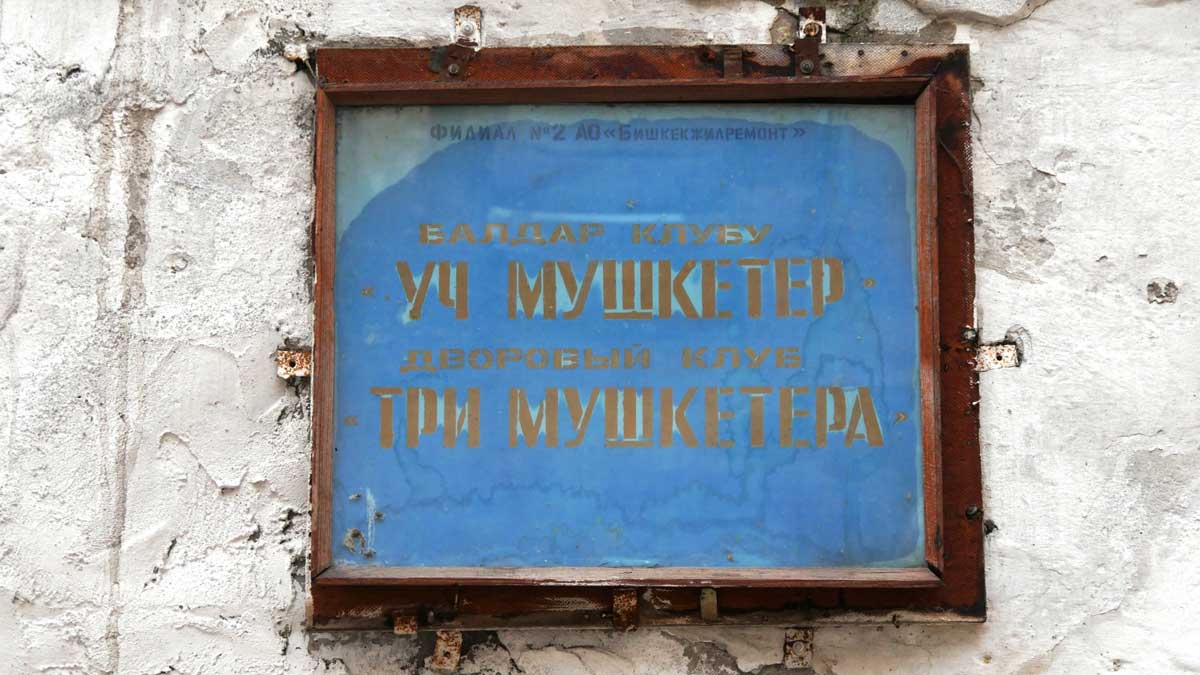 Unfortunately, today, as can be seen from the photographs, the condition of courtyards and their elements is rather sad. It speaks of some kind of alienation of city-dwellers from their public space, and for the tragedy and chaos of the '90s which were only partially overcome. In the end, it is also a question of a specific kind of urban transformation with a weak state that fails to consciously shape urban design (compare to other post-Soviet states were dvors were better maintained / rehabilitated). Ultimately, it also demonstrates the value a given polity attaches to public space (that is, not so much). So, sadly, residents of Bishkek yards did not manage to completely restore their courtyards as important social spaces - the main function that the yards carried in the Soviet period, uniting city-dwellers into real communities.